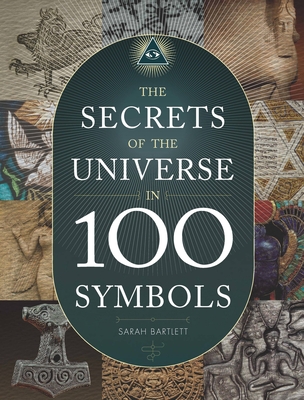 The Secrets of the Universe in 100 Symbols (Hardcover)
Chartwell Books, 9780785836964, 256pp.
Publication Date: January 15, 2019
Other Editions of This Title:
Hardcover (4/1/2015)
* Individual store prices may vary.
Description
Explore The Secrets of the Universe in 100 Symbols with this beautifully illustrated compendium of 100 diverse arcane tools and writings said to hold the key to the mysteries of the universe.

Symbols carry weight and significance. Over time they grow as different cultures attribute new meanings to old signs. Did you know that the swastika, widely known now to be the key symbol for Hitler's Nazi party, used to be a Buddhist symbol for success? From the Aztec Calendar Stone and the Spear of Destiny to magic circles and Navaho sand paintings, each relic, symbol, and depiction is presented and analyzed in detail to reveal the beliefs and practices of past civilizations from all around the globe.

Philosophers, astrologers, prophets, poets, and artists from every age and culture have whispered secrets to pharaohs, statesmen, kings, and queens. In Renaissance Europe, two powerful women—Catherine of Medici and, later, Elizabeth I of England—patronized the most important magi of the time. John Dee's obsidian mirror revealed the future of the nation to Elizabeth, while Nostradamus divulged spiritually inspired prophecies to Catherine at the Musée du Louvre in Paris. 

Organized into three chapters—The Art of Divination; Enchantments, Symbols, and Talismans; and In Search of Secret Knowledge—the book's engaging and informative text brings to light the secrets and intrigues that surround each mysterious object and the obscure arts of the people who used them, highlighting how to decode their signs and symbols.
About the Author
Sarah Bartlett is the author of several spiritual and occult books, including the best-selling Tarot Bible and the Essential Guide to Psychic Powers. An astrologer for many women's magazines such as UK Cosmopolitan, She, Spirit and Destiny, and the London Evening Standard, Sarah currently contributes to BBC Radio 2 show, Steve Wright in the Afternoon, as well as to www.theastrologyroom.com, of which she is a founding member. She has written Supernatural Places for National Geographic, and The Afterlife Bible for Octopus. Dividing her time between London and the south of France, Sarah teaches and practices astrology, tarot, Wicca, and other occult arts.
Praise For The Secrets of the Universe in 100 Symbols…
"The beautifully depicted signs, symbols, and objects in this work by astrologer Bartlett (Tarot Bible) illustrate 100 attempts to make sense of the world and our place in it. They are divided equally among chapters that cover "The Natural World," "The Divine World," "Signs and Systems," and "The Mystic World." The introduction explains what symbols are and their importance throughout history. It outlines the coverage in the book and discusses the "catalog pages" that illustrate groups of 12 symbols from various traditions. The entries that follow generally portray on a two-page spread each, an item and its history, handprints on cave walls in Argentina, the breastplate of Aaron, ­Vitruvian Man. Several entries address a type of item, such as tefillin (phylacteries worn by Jews), playing cards, or Fibonacci series. In many cases the book goes into extra detail. The summary on the Hindu elephant-headed god Ganesha, for example, is accompanied by information on Kangi-ten, a Japanese pair of gods that are male and female ­elephants, and followed by pages on Hindu deities generally. Entries are accompanied by vivid reproductions of artworks. The accompanying captions provide basic facts on the items, though the descriptions are at times quite general rather than offering thorough explanations on the particular object shown. Since the spreads are fascinating but brief, some may wish for further reading advice that is unfortunately lacking. Still, this is a wonderful browse and a great jumping-off point for reports on history, mythology, and religion. ­VERDICT Books on 100 objects of various kinds are common now yet usually address history rather than signs and symbols. This is therefore a worthwhile addition to public library reference shelves." - Library Journal