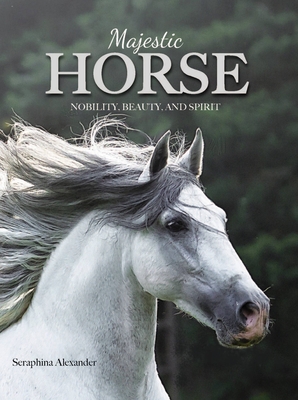 Majestic Horse (Hardcover)
Nobility, Beauty, and Spirit
Chartwell Books, 9780785836995, 288pp.
Publication Date: September 10, 2019
* Individual store prices may vary.
Description
This beautifully photographed and comprehensive volume covers all the most important aspects of equestrianism, from a first encounter with a horse to how to take one into a competition—including a wealth of technical information about horses and how to care for them. Above all, however, it is a celebration and a treasury of just how wonderful horses are and why people have loved them throughout their history of coexistence.

From foals to stallions, the majesty of the horse and their beautiful spirit is depicted within these pages. Horsemanship is all about understanding the intelligence, strength, and nobility of the horse. The partnership between horse and rider is one of the most supreme relationships that an animal and a human can have together. Whether they are kept for leisure, competition, work, or company, horses command respect and build emotional attachments with the humans they spend time with.  

Majestic Horse: Nobility, Beauty, and Spirit is the perfect reference for anyone interested in taking care of a horse or just passionate about expanding their equine knowledge.
About the Author
Seraphina Alexander had an intense love of horses from an early age when she was given her first pony. Coming from an equestrian family, she was lucky enough to be supported by her mother, father, and older siblings who were experienced in all aspects of horsemanship. By the time Seraphina reached adulthood, she was an accomplished competitor in dressage, showjumping, and eventing. After studying for an English degree at university, she then secured a job working for a publisher specializing in books about the countryside. After a few years of working as a general editor there, Seraphina went on to writing her own material about the training and competition of horses. Today, she lives on the outskirts of London, England, where she still competes her own horses in local and national competitions.