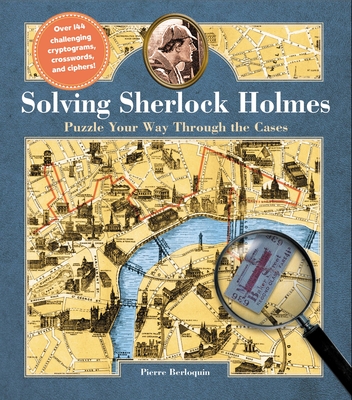 Solving Sherlock Holmes (Hardcover)
Puzzle Your Way Through the Cases
Crestline Books, 9780785837299, 192pp.
Publication Date: July 16, 2019
Other Editions of This Title:
Hardcover (9/5/2017)
* Individual store prices may vary.
Description
In Solving Sherlock Homes, solve 6 whodunit cases based on classic Sherlock Holmes short stories with 144 cryptograms, crosswords, labyrinths, jigsaws, and riddles.

Created in 1887 by British author Sir Arthur Conan Doyle, Detective Sherlock Holmes and his trusty companion, Doctor John Watson, have fascinated readers for well over a century and continue to be two of the most popular detective characters of all time.

Who, then, could be better companions to accompany readers in this three-part puzzle adventure? With 144 different puzzles—including cryptograms, crosswords, ciphers, logic puzzles, and many more—inspired by six classic Sherlock Holmes short stories, modern puzzle-solvers and Sherlockians can search for hidden clues, navigate around different countrysides, and—most importantly—exercise their sharp intellect and keen perception skills, like Sherlock would, to solve each chapter's adventure. Each illustrated chapter contains a tear-out map to guide readers through each story adventure and puzzle.

Hours of puzzling fun and entertainment await!
About the Author
Pierre Berloquin is a writer; creator of puzzles, board games, and multimedia games; designer; and a creative consultant. After studying at the École des Mines in Paris, France, he worked as an engineer, consultant, and professor while quickly becoming a renowned specialist of logical and mathematical games. Pierre has written over 50 books of puzzles, many of which are bestsellers.