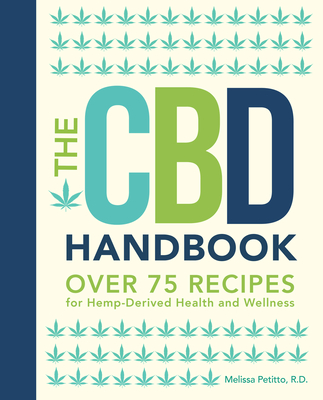 The CBD Handbook (Hardcover)
Over 75 Recipes for Hemp-Derived Health and Wellness
Chartwell Books, 9780785837862, 160pp.
Publication Date: November 19, 2019
* Individual store prices may vary.
Description
The CBD Handbook shows you a multitude of creative ways to use CBD oil, from food to bath products.

Cannabidiol (commonly called CBD oil) boasts a slew of positive effects on mental and physical health, whether it's consumed or applied topically. It comes from the Cannabis plant and is one of many chemicals produced by it. Unlike THC, CBD has no psychoactive effects and is legal for use throughout the United States.

Since it's legalization, CBD has been everywhere and there's no shortage of uses for the product. But rather than blandly putting it in your coffee every morning, The CBD Handbook shows creative ways to treat yourself and your friends to a little dose of this trending "essential oil"—including delicious main courses, next level drinks, pet treats, bath bombs and other pampering needs, and more. Tips and tricks on how to get the most out of your CBD oil of choice are peppered throughout.

Whether it's used to calm an anxious animal, soothe sensitive skin, or reduce chronic pain, these recipes guide you through the most valuable and interesting uses of CBD oil. If you're new to or curious about CBD oil and what you can do with it, this is the book for you.
About the Author
Melissa Petitto, RD, was raised around an eclectic collection of food in Birmingham, Alabama. With two seemingly diverse cultures that center life around the kitchen, Petitto gained an early appreciation for food and its impact on a person's life. Attending Johnson & Wales University, Melissa Petitto was afforded the opportunities of working for The Governor's House Inn as the bed and breakfast chef and at Cooking Light magazine in the test kitchen. To enhance her skills and opportunities, she furthered her education at Emory University Hospitals with a dietetic internship. Upon passing her registered dietician's exam, Petitto made the move to New York City to pursue her career goal of becoming a personal chef.
 
After twelve years in the city, Petitto recently made the move west, now calling Santa Barbara, California, home, and became the personal chef she had envisioned herself to be with an A-list clientele. In recent years, she has traveled to teach cooking classes and works at the Hilton Head Health Institute, a premier weight loss spa, where she lectures, presents food demonstrations, and consults with individual clients in attendance in addition to traveling to York, Maine, to teach classes at the well-known Stonewall Kitchen Cooking School.
 
Petitto is the author of Acai Super Berry Cookbook, An Apple A Day, 30 Minute Paleo Meals, and Red Hot Sriracha. She collaborated with Hilaria Baldwin on The Living Clearly Method. Whether cooking dinner for an individual client or a dinner party of twenty-five, Melissa Petitto exudes the passion she feels for nutritious food and its role in a family's life.
melissapetitto.com