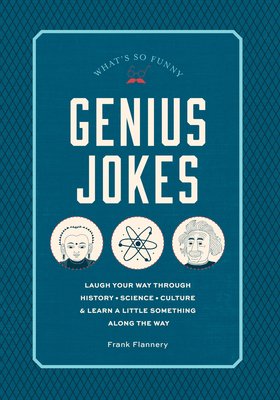 Genius Jokes (Hardcover)
Laugh Your Way Through History, Science, Culture & Learn a Little Something Along the Way
Crestline Books, 9780785837985, 176pp.
Publication Date: October 15, 2019
Other Editions of This Title:
Hardcover (5/29/2018)
* Individual store prices may vary.
Description
Start cracking wise—literally. Genius Jokes offers a cultivated assortment of 125+ quips for the cultured and the curious, the learned and the learning.

Why didn't the physicist trust atoms?
Because they make up everything!

Nothing is more satisfying than getting a joke that flies over the heads of most people in the room. This book not only supplies the readers with smart jokes about academic subjects, it also contains detailed explanations of the concepts and historical figures the jokes are based on so that you're never flying blind when dropping a comedic gem.

A veritable master's course in humor, topics include:
Math & Science
Art & Literature
Grammar & Language
History & Politics
Philosophy & Psychology
Religion & Spirituality
Impress your friends, family, in-laws, professors, or brilliant love interest, and never laugh at a joke you don't quite get. With Genius Jokes, you'll bend minds and split sides with the best!
About the Author
Frank Flannery is a genius. The funny sort of genius that makes people wonder if there's something not quite right about him. His entire life is devoted to the research, creation, and relating of jokes—the more esoteric, the better. He lives in New Jersey in the head of ghostwriter Katherine Furman.