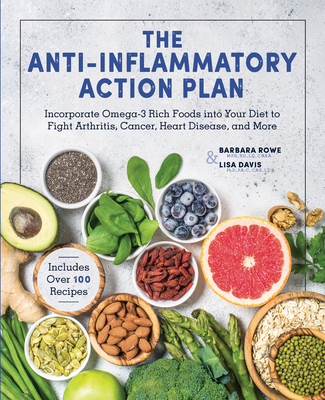 The Anti-Inflammatory Action Plan (Hardcover)
Incorporate Omega-3 Rich Foods into Your Diet to Fight Arthritis, Cancer, Heart Disease, and More
Crestline Books, 9780785838029, 192pp.
Publication Date: November 19, 2019
* Individual store prices may vary.
Description
The Anti-Inflammatory Action Plan is your guide to understanding inflammation and how you can incorporate anti-inflammatory foods into your everyday diet.
Cut your finger accidentally and the area will swell, redden, and heat up. This type of acute inflammatory response is the body's reaction to trauma, and it's an essential part of the healing process. But inflammation can be harmful when it hangs around too long and refuses to leave. When the inflammation switch refuses to turn off, the body operates as if it is always under attack (the older we get, the more likely this is to happen). White blood cells flood the system for weeks, months, and even years.
Researchers are now linking low-grade, persistent inflammation to premature aging, heart disease, M.S., diabetes, Alzheimer's, psoriasis, arthritis, and cancer. While anti-inflammatory drugs do exist, they can injure the stomach or suppress the immune system. Fortunately, the situation can be remedied by a change in diet, specifically by altering the kinds of fats you eat. Omega-3 fatty acids tend to decrease inflammation while omega-6 fats and trans-fats increase inflammation. While many foods in the standard American diet (unrefined white flour, sugar, red meat, dairy, fast food, and food additives) exacerbate inflammation, a healthy diet made up of fish, nuts, seeds, oils, lean grass-fed meats, and fruits and vegetables can help lessen or prevent inflammation. Likewise, certain spices such as turmeric, cloves, and ginger have proven anti-inflammatory properties.

Reduce and prevent inflammation with these delicious dishes:
Pecan Date Bread with Currants
Southern Spiced Peaches
Black Bean Burritos with Avocado and Mango
Caramelized Onion Pizza with Basil and Pine Nuts
Thai-Style Fish and Seafood Chowder
Citrus Pecan Chicken Salad
Dark Chocolate Strawberry Shortcake
About the Author
Barbara Rowe, MPH, RD, LD, CNSD, is the program manager at Johns Hopkins' Weight Management Center. With over sixteen years of experience as a dietitian, she has worked individually with countless clients helping them manage their health through diet. Rowe has authored several articles on nutrition and inflammation. She uses her vast knowledge of nutrition and her enjoyment of good food to develop tasty recipes that promote good health.
Lisa M. Davis, PhD, PA-C, CNS, LDN, is the Chief Nutrition Officer at Terra's Kitchen, Founder and President for Burleigh Manor Animal Sanctuary and Eco- Retreat (BMASER), and a Clinical Consultant for Pressed Juicery. She received her PhD for nutrition and obesity research from John Hopkins Bloomberg School of Public Health and resides in Maryland.