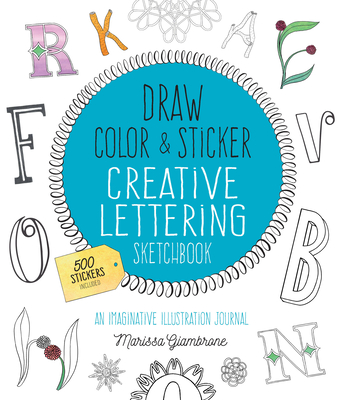 Draw, Color, and Sticker Creative Lettering Sketchbook (Paperback)
An Imaginative Illustration Journal - 500 Stickers Included
Crestline Books, 9780785838043, 64pp.
Publication Date: October 8, 2019
Other Editions of This Title:
Paperback (7/1/2017)
* Individual store prices may vary.
Description
Learn to draw and experiment with color right on the pages of this fun sketchbook! With the Draw, Color, and Sticker Creative Lettering Sketchbook you will create your own stickers for any occasion.

Everybody loves hand lettering, now this is your chance to create your very own hand lettered stickers! Draw, Color, and Sticker Creative Lettering Sketchbook gives you the blank and partially completed stickers (and plenty of inspiration!) you need to create stickers for any occasion. And best of all, they'll be completely unique to you!

The Draw, Color, and Sticker series offers page after page of beautiful inspiration designed to get you drawing! Stickers and partially illustrated pages provide a rich canvas to encourage you to practice drawing with a multitude of elements and across multiple themes.

Black and white drawings with touches of color will get you started started, and invite further experimentation. The uncoated paper stock is perfect for drawing, painting, and coloring with any variety of materials. The included stickers are printed on soft uncoated paper so they can take color or additional drawing on top!
About the Author
Marissa Giambrone made her love of art and design known from an early age. Growing up in Rochester, New York, she picked up her first crayon and never looked back. As she grew, crayons turned into markers, brushes, whisks, design software—anything she could possibly use to create something new. In time, her surroundings changed, but her hands stayed busy. Today she resides in Boston, working as an art director and graphic designer, and draws inspiration from all things bright and colorful. When she's not at work, she's always working on some project, whether it be calligraphy, watercolor, printmaking, or whatever else she finds.

Follow her on Instagram @handdrawnhappiness