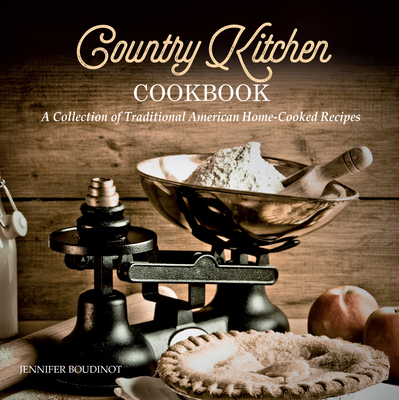 Country Kitchen Cookbook
A Collection of Traditional American Home-Cooked Recipes
Paperback

* Individual store prices may vary.
Description
Celebrate country cooking with over 100 quintessentially American recipes.

Apple pie, hamburgers, fried chicken. Some foods just take us back home. They evoke the feel of summer evenings on the lawn playing baseball, winter gatherings around a roaring fire, spring picnics, and fall football games on campus. For most of us, good times and good food naturally go together, keeping families close and memories strong.

The culinary melting pot that is American country cooking accommodates the great variety of tastes and cultures to be found here, creating a range of specialties that can be called favorites either regionally or across the country. This wonderful cookbook gathers together recipes that have helped define family fun, special occasions, and meals just-like-Mom-used-to-make for generations, including:
Strawberry Shortcake
Loaded Baked Potato Soup
Apple-Smothered Pork Chops
Beef Stew with Dumplings
Country Corn Fritters
Collard Greens and Bacon
Hush Puppies
Home-Fried Sausage Casserole
Chocolate Chip Pancakes
And more!
With a flexi-bind format that stays open while you cook, Country Kitchen Cookbook provides excellent recipes for anyone who's a fan of bacon, cheese, buttermilk, savory casseroles, the sweetest pies, or anything deep fried. Perfect for hanging around at home or inviting guests for a late, light supper, there is a recipe for everything, from simple meals and snacks to elaborate four-course dinner party showstoppers.
Chartwell Books, 9780785839675, 256pp.
Publication Date: August 24, 2021
About the Author
Jennifer Boudinot is a freelance writer with a degree in Writing, Literature, and Publishing from Emerson College. A longtime nonfiction editor of books like Ballparks: A Journey Through the Fields of the Past, Present, and Future, she's also the author of several cookbooks and has worked as a copywriter for such brands as Google, Mailchimp, and the Tony Awards. A licensed New York tour guide, she lives in Brooklyn and writes about the history of her neighborhood at FlatbushHistory.com.