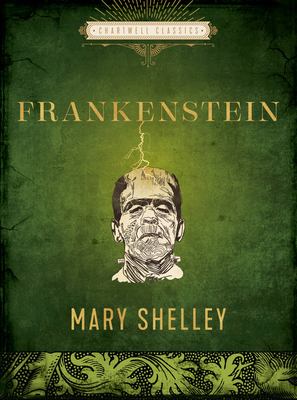 Frankenstein (Chartwell Classics)
Hardcover

* Individual store prices may vary.
Other Editions of This Title:
Paperback (10/2/2020)
Paperback (4/2/2020)
Paperback (7/18/2018)
Paperback (8/11/2015)
Paperback (12/7/2016)
Paperback (7/1/2016)
Paperback (6/15/2017)
Paperback (11/13/2016)
Paperback, French (9/8/2016)
Paperback (3/30/2020)
Paperback (8/13/2020)
Paperback (1/27/2021)
Paperback (11/2/2016)
Paperback (8/21/2010)
Paperback (11/4/2020)
Paperback (2/24/2021)
Description
Mary Shelley's classic Frankenstein pioneered the deeply explored battle between monster and man. Follow three narratives in this ageless tale that navigates fear, fixation, love, and desire, while finding an anchor in humanity.

The combination of fantastical elements and scientific exploration makes this Mary Shelley novel one of the first true models of science fiction. This new edition of Frankenstein stays true to the classic origins, but is provided with a whole new life by a beautifully designed, jacketed hardcover format.

An introduction by writer and English professor Catherine Steindler, an author's introduction, and a timeline of the life and times of Mary Shelley completes this highly collectible edition.

Essential volumes for the shelves of every classic literature lover, the Chartwell Classics series includes beautifully presented works and collections from some of the most important authors in literary history. Chartwell Classics are the editions of choice for the most discerning literature buffs.
 
Other titles in the Chartwell Classics Series include: Complete Fiction of H.P. Lovecraft; Complete Grimm's Fairy Tales; Complete Novels of Jane Austen; Complete Sherlock Holme; Complete Tales & Poems of Edgar Allen Poe; Complete Works of William Shakespeare; Divine Comedy; Alice's Adventures in Wonderland and Other Tales; The Essential Tales of H.P. Lovecraft; The Federalist Papers; The Inferno; The Call of the Wild and White Fang; Moby Dick; The Odyssey; Pride and Prejudice; The Essential Grimm's Fairy Tales; Emma; The Great Gatsby; The Secret Garden; Anne of Green Gables; The Essential Tales and Poems of Edgar Allan Poe; The Phantom of the Opera; The Communist Manifesto and Das Kapital; Republic; Twenty Thousand Leagues Under the Sea; The Picture of Dorian Gray; Meditations; Wuthering Heights; Alice's Adventures in Wonderland and Through the Looking-Glass; A Tales of Two Cities; Beowulf; The Strange Case of Dr. Jekyll and Mr. Hyde and Other Stories; Adventures of Huckleberry Finn; Little Women
 
Chartwell Books, 9780785839880, 352pp.
Publication Date: December 7, 2021
About the Author
Mary Wollstonecraft Shelley (30 August 1797 - 1 February 1851) was an English romantic/gothic novelist and the author of Frankenstein, or The Modern Prometheus. She was married to the Romantic poet Percy Bysshe Shelley.Mary Shelley was born Mary Wollstonecraft Godwin in Somers Town, in London, in 1797. She was the second daughter of famed feminist, philosopher, educator, and writer Mary Wollstonecraft. Her father was the equally famous anarchist philosopher, novelist, journalist, and atheist dissenter William Godwin. Her mother died of puerperal fever ten days after Mary was born.