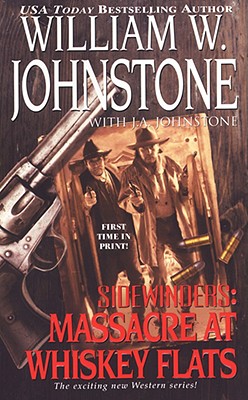 Sidewinders #2 (Mass Market Paperbound)
Massacre at Whiskey Flats: Sidewinders Series #2
Pinnacle Books, 9780786019229, 352pp.
Publication Date: November 1, 2008
* Individual store prices may vary.
Description
From William W. Johnstone, bestselling author of "Blood Bond, Mountain Man, " and "The Last Gunfighter, " and J.A. Johnstone, comes "Sidewinders, " a double-barreled dose of action, featuring two of the unlikeliest western heroes to ever cross the American frontier.
Sidewinders Don't Look For Trouble--It Usually Finds Them
In the west, there's always work for the kind of men willing to get their hands dirty--from rounding stray cattle to stringing barbed wire. Bo Creel and Scratch Morton are just such men. Now they've been hired for the one job they've never tried: wearing badges--in a little stain of a town called Whiskey Flats.
What Bo and Scratch don't know is that a gang of outlaws is bent on burning down the town the Sidewinders have been hired to protect. With only a passing acquaintance of the law, a keen sense of self-preservation, and a range-war gathering round them, Bo and Scratch need a good plan or it's a one-way ticket to Boot Hill. They'll also need a little luck, a whole mess of bullets, and the courage to stand tall--and shoot true. . .
or
Not Currently Available for Direct Purchase