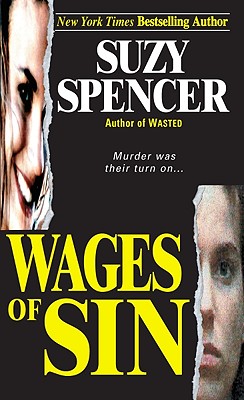 Wages of Sin
Mass Market Paperbound

* Individual store prices may vary.
Description
Mysterious and unspeakable murder. . .broken families and squandered dreams. --Austin Chronicle A Defiled Body On January 11, 1995, deputies outside Austin, Texas, found a mutilated body laid across a cold campfire--head destroyed, hands cut off, skin singed by fire. In less than three days, they had the kill zone: a small apartment, where shy Christopher Hatton was shot at point blank range in his bed. The Stripper And The Loser Stephanie Lynn Martin, despite her devout Southern Baptist upbringing, was reborn as a sultry stripper and calendar girl. William M. Busenburg was a good-looking wannabe living his own lies. They came together in an explosion of violence and sex. Then they decided there was only one thing missing from their romance: murder. The Thrill Of The Kill But within days, they were under arrest and savvy prosecutors learned the ugly truth behind the senseless slaughter of Busenburg's friend. How twisted fantasies of murder fueled the couple's lust and led to the unspeakable crime. And how they both tried to cover up their heinous deed. . .until they finally ran out of lies. With 16 Pages Of Shocking Photos
Pinnacle Books, 9780786019519, 383pp.
Publication Date: December 1, 2010
About the Author
Though a Texan by birth and by spirit, Suzy Spencer has spent her life exploring the world and it's peoples to prepare herself for a career as a writer. Spencer is the author of the extended New York Times bestseller Wasted -a true Texas tale about a rich lesbian, her beautiful young girlfriend and the killer who came between them. Clay Smith of the Austin Chronicle said that "Wasted is everything a true crime book should be: lean, fierce, and unsparing. It's factual, gory, and macabre." Spencer has led a very diverse life from working as a missionary in guerilla-attacked Malaysia and riot-riddled Detroit to interviewing Wall Street's and Washington's pacemakers as a Fortune Magazine reporter. She has also written about Hollywood's hottest as a free-lancer for People Magazine and Los Angeles Magazine. She has delved into the spheres of banking, jewelry, fashion, show biz, education and even social work in jobs ranging from marketing consultant, editor, secretary, manager, teacher and welfare worker. She's lived in New York, California, Michigan and Hawaii. And she's traveled throughout Europe, North America and the Far East. Spencer has also prepared herself academically with two graduate degrees from the University of Southern California (A Masters of Professional Writing and a Masters of Business Administration), and a bachelors degree from Baylor University with course work at the UCLA. She is the recipient of two Chilton Editorial Awards, three semi-final finishes in the Pirates' Alley Faulkner Awards, and one Austin Writers' League Word is Art award. Spencer currently lives in Austin, Texas where she is working on her next true crime book due out in the fall of 2000. Wasted is Spencer's salute to her many friends and family who have fought drug, alcohol, sexual, emotional and physical abuse, who have turned personal tragedies into triumphs, and who unceasingly exhibit that Texas spirit. If you would like to contact Suzy Spencer please send mail to PO Box 161732, Austin, TX 78716-1732.
or
Not Currently Available for Direct Purchase