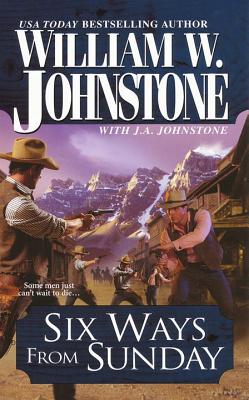 Six Ways from Sunday (Mass Market Paperbound)
Pinnacle Books, 9780786019984, 316pp.
Publication Date: May 1, 2009
* Individual store prices may vary.
Description
Cotton Pickens, the unforgettable hero of William Johnstone's classic Blood Valley, returns in a tale of a lawless Montana mining district, a 16-year-old widow, and a man who always finds new ways of laying down the law. . . Six Ways To Sunday--And Seven Days To Die Cotton Pickens' parents had a cussed sense of humor, but there's nothing funny about the way the man can draw a gun. Now he's in the middle of a mining camp district slowly being crushed under the iron fist of another misnamed, hardheaded fellow, Carter Scruples. With Cotton facing off against Scruples, a beautiful young woman caught in-between, and a band of outlaws living high and mighty in a dry-docked Pullman Palace Car, the town of Swamp Creek is surely going to get blown sky high. And when time comes to put the pieces back together again--Cotton will do his picking one bullet at a time. . .
About the Author
William W. Johnstone is the USA Today and New York Times bestselling author of over 300 books, including Preacher, The Last Mountain Man, Luke Jensen Bounty Hunter, Flintlock, Savage Texas, Matt Jensen, The Last Mountain Man; The Family Jensen, Sidewinders, and Shawn O'Brien Town Tamer . His thrillers include Phoenix Rising, Home Invasion, The Blood of Patriots, The Bleeding Edge, and Suicide Mission. Visit his website at www.williamjohnstone.net or by email at dogcia2006@aol.com. Being the all-around assistant, typist, researcher, and fact checker to one of the most popular western authors of all time, J.A. Johnstone learned from the master, Uncle William W. Johnstone. He began tutoring J.A. at an early age. After-school hours were often spent retyping manuscripts or researching his massive American Western history library as well as the more modern wars and conflicts. J.A. worked hard--and learned. "Every day with Bill was an adventure story in itself. Bill taught me all he could about the art of storytelling. 'Keep the historical facts accurate, ' he would say. 'Remember the readers, and as your grandfather once told me, I am telling you now: be the best J.A. Johnstone you can be.'"
or
Not Currently Available for Direct Purchase