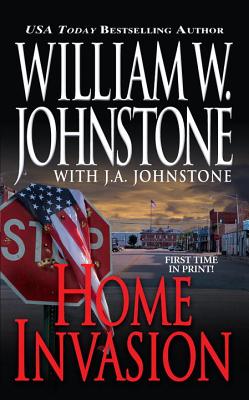 Home Invasion (Black Ops #4) (Paperback)
Pinnacle, 9780786021314, 352pp.
Publication Date: December 1, 2010
Other Editions of This Title:
Mass Market (9/24/2019)
* Individual store prices may vary.
Description
From William W. Johnstone and J.A. Johnstone, authors of Jackknife and Border War, comes Home Invasion, their most explosive and terrifyingly timely thriller yet.

They Will Invade Your Home.

Home, Texas. Two men break into the house of an elderly couple. Guns are fired. Blood is spilled. When one of the intruders sues the homeowner and wins, the good people of Home take the law into their own hands. In a stunning case of backward justice fueled by the liberal media--the left-leaning U.S. President decides to make the town a test case to strike down the Second Amendment of the U.S. Constitution: Ban all guns in Home, Texas. And to enforce it, the newly formed national police force is sent in.

They Will Take Your Weapons.

Unarmed. Defenseless. Denied their civil right to bear arms, the citizens of Home are now easy targets for America's closest enemies--the Mexican drug cartels who spill across the border every day. This time, they've set their sights on a secret military arsenal. But they need a base of operations. And there's no place like Home.

But They Won't Destroy Your Spirit.

Police Chief Wade Bonner is one of the few in town permitted to carry a gun. But Bonner knows that his friends and neighbors will never surrender their freedoms--or submit to an outside enemy, no matter how strong or ruthless. Soon they will be put to the test. Because the war is coming home. And Home is fighting back.
About the Author
William W. Johnstone is the USA Today and New York Times bestselling author of over 300 books, including Preacher, The Last Mountain Man, Luke Jensen Bounty Hunter, Flintlock, Savage Texas, Matt Jensen, The Last Mountain Man; The Family Jensen, Sidewinders, and Shawn O'Brien Town Tamer . His thrillers include Phoenix Rising, Home Invasion, The Blood of Patriots, The Bleeding Edge, and Suicide Mission. Visit his website at www.williamjohnstone.net or by email at dogcia2006@aol.com.

Being the all-around assistant, typist, researcher, and fact checker to one of the most popular western authors of all time, J.A. Johnstone learned from the master, Uncle William W. Johnstone.  

He began tutoring J.A. at an early age. After-school hours were often spent retyping manuscripts or researching his massive American Western history library as well as the more modern wars and conflicts. J.A. worked hard—and learned.

"Every day with Bill was an adventure story in itself. Bill taught me all he could about the art of storytelling. 'Keep the historical facts accurate,' he would say. 'Remember the readers, and as your grandfather once told me, I am telling you now: be the best J.A. Johnstone you can be.'"
or
Not Currently Available for Direct Purchase