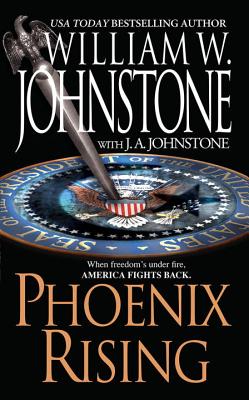 Phoenix Rising (Mass Market)
Pinnacle, 9780786023486, 352pp.
Publication Date: July 1, 2011
* Individual store prices may vary.
Description
"The Land Of The Free" Is No Longer Free

The new President of the United States is sharing the wealth, rewriting the Constitution, and changing the National Anthem. America's liberals are thrilled with the election of the first foreign-born candidate. But when President Ohmshidi begins to implement his radical agenda-banning oil production, slashing military budgets, and establishing a "New World Order"-our once-great nation becomes easy pickings for a deadly new wave of Muslim extremists, who rename America. . .the Islamic Republic of Enlightenment.

It's Time To Take Back America

Enter Jake Lantz, a battle-seasoned army major and ace helicopter pilot who refuses to stand by and watch his country go down in flames. Assembling a ragtag team of action-ready soldiers and patriots, Jake establishes Firebase Freedom-America's last defense against the violent, lawless thugs and "Army of Allah" that has taken over. Jake's mission: Take back America. Give the people liberty-and give the enemy death. . .

First Time In Print!
About the Author
William W. Johnstone is the USA Today and New York Times bestselling author of over 300 books, including Preacher, The Last Mountain Man, Luke Jensen Bounty Hunter, Flintlock, Savage Texas, Matt Jensen, The Last Mountain Man; The Family Jensen, Sidewinders, and Shawn O'Brien Town Tamer . His thrillers include Phoenix Rising, Home Invasion, The Blood of Patriots, The Bleeding Edge, and Suicide Mission. Visit his website at www.williamjohnstone.net or by email at dogcia2006@aol.com.

Being the all-around assistant, typist, researcher, and fact checker to one of the most popular western authors of all time, J.A. Johnstone learned from the master, Uncle William W. Johnstone.  

He began tutoring J.A. at an early age. After-school hours were often spent retyping manuscripts or researching his massive American Western history library as well as the more modern wars and conflicts. J.A. worked hard—and learned.

"Every day with Bill was an adventure story in itself. Bill taught me all he could about the art of storytelling. 'Keep the historical facts accurate,' he would say. 'Remember the readers, and as your grandfather once told me, I am telling you now: be the best J.A. Johnstone you can be.'"
or
Not Currently Available for Direct Purchase