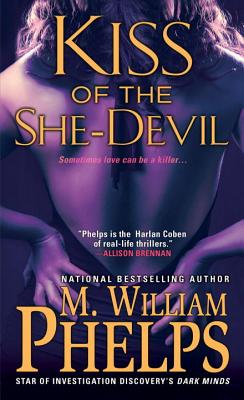 Kiss of the She-Devil (Mass Market Paperbound)
Pinnacle Books, 9780786024872, 423pp.
Publication Date: March 5, 2013
* Individual store prices may vary.
or
Not Currently Available for Direct Purchase
Description
Phelps shows how the ugliest crimes can take place in the quietest of suburbs. --Library Journal When librarian Martha Gail Fulton was gunned down in a Michigan parking lot on a quiet evening, there were two obvious suspects--Gail's husband George, a former military officer . . . and George's mistress, the flashy businesswoman Donna Kay Trapani. Police were baffled to find that both had ironclad alibis. Yet evidence showed the shooter, a male, had an accomplice--a mystery woman. Now, M. William Phelps recounts the compelling real-life drama of a twisted love triangle that ended in bloody murder, and the riveting investigation that brought to light a master manipulator's trail of deadly deceit. "Phelps is the Harlan Coben of real-life thrillers." -Allison Brennan Praise for M. William Phelps "One of our most engaging crime journalists." -Katherine Ramsland "Phelps ratchets up the dramatic tension." -Stephen Singular "One of America's finest true-crime writers." -Vincent Bugliosi "Phelps creates a vivid portrait." -Publishers Weekly Includes 16 Pages Of Dramatic Photos
About the Author
New York Times bestselling investigative journalist and serial killer expert M. William Phelps is the author of thirty-one nonfiction books and has appeared on over 100 television shows. He created, produced and starred in the series Dark Minds and is one of the stars of Deadly Women and Oxygen's Snapped, Killer Couples and KillerPost. Radio America calls him "the nation's leading authority on the mind of the female murderer." Touched by tragedy himself through the unsolved murder of his sister-in-law, Phelps is able to enter the hearts and minds of his subjects like no one else. He lives in a Connecticut farming community and can be reached at his website, www.mwilliamphelps.com.
Advertisement