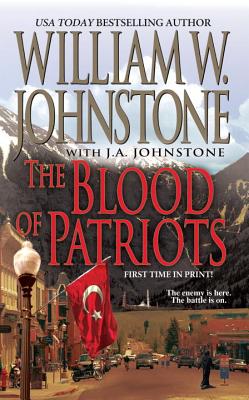 The Blood of Patriots (Mass Market)
Pinnacle, 9780786028085, 360pp.
Publication Date: April 1, 2012
* Individual store prices may vary.
Description
The acclaimed authors of Home Invasion and Border War unload the explosive story of the deadliest conspiracy against the US in American history--and in our very own back yard. . .

God--Their God

NYPD detective John Ward is all for religious freedom, but when he tries to bust a street vendor peddling phony Rolexes, he's suspended from the force--the latest casualty of political correctness. He decides to leaves the city and visit his ex-wife and daughter in Colorado. When he arrives in the peaceful town of Basalt, he makes a shocking discovery: certain foreigners are taking over, buying up buildings, purchasing land, setting up training camps and planning. . .what?

With Liberty And Justice For None

Like an army, they've descended on the town. They've set up their homes like military barracks, forcing their way of life on the community and bending our laws against us. Ward doesn't like the looks of it. And the deeper he digs, the closer he gets to the truth: The enemy is here, on American soil. And if we don't stand and fight--like our nation's forefathers--we can kiss freedom goodbye.
About the Author
William W. Johnstone is the USA Today and New York Times bestselling author of over 300 books, including Preacher, The Last Mountain Man, Luke Jensen Bounty Hunter, Flintlock, Savage Texas, Matt Jensen, The Last Mountain Man; The Family Jensen, Sidewinders, and Shawn O'Brien Town Tamer . His thrillers include Phoenix Rising, Home Invasion, The Blood of Patriots, The Bleeding Edge, and Suicide Mission. Visit his website at www.williamjohnstone.net or by email at dogcia2006@aol.com.

Being the all-around assistant, typist, researcher, and fact checker to one of the most popular western authors of all time, J.A. Johnstone learned from the master, Uncle William W. Johnstone.  

He began tutoring J.A. at an early age. After-school hours were often spent retyping manuscripts or researching his massive American Western history library as well as the more modern wars and conflicts. J.A. worked hard—and learned.

"Every day with Bill was an adventure story in itself. Bill taught me all he could about the art of storytelling. 'Keep the historical facts accurate,' he would say. 'Remember the readers, and as your grandfather once told me, I am telling you now: be the best J.A. Johnstone you can be.'"