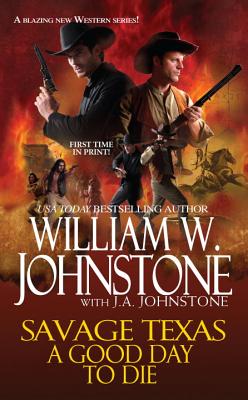 Savage Texas (Mass Market Paperbound)
A Good Day to Die
Pinnacle Books, 9780786028108, 441pp.
Publication Date: July 3, 2012
* Individual store prices may vary.
Description
The Greatest Western Writer Of The 21st Century The novels of William Johnstone and J.A. Johnstone have set the standard for hard-hitting Western fiction. In his new series, this master storyteller trains his sights on Texas--and the men and women who sowed their sweat and blood into the land. A Good Day To Die In Hangtree, Texas, any day could be your last. For on the heels of the Civil War, Hangtree is drawing gamblers, fast women and faster gunmen. Amidst the brawls and shooting, the land-grabbing and card-sharking, two men barely hold the boomtown together: Yankee Sam Heller and Texan Johnny Cross. Heller and Cross can't stand the sight of each other. And Hangtree needs them more than ever. A Comanche named Red Hand leads a horde of warriors on a horrific path of bloodshed and destruction, with Hangtree sitting right in Red Hand's path. For a town bitterly divided, for Heller and Cross, the time has come to unite and stand shoulder to shoulder--and fight, live or die for their little slice of heaven called Hangtree.
About the Author
William W. Johnstone is the USA Today and New York Times bestselling author of over 300 books, including Preacher, The Last Mountain Man, Luke Jensen Bounty Hunter, Flintlock, Savage Texas, Matt Jensen, The Last Mountain Man; The Family Jensen, Sidewinders, and Shawn O'Brien Town Tamer . His thrillers include Phoenix Rising, Home Invasion, The Blood of Patriots, The Bleeding Edge, and Suicide Mission. Visit his website at www.williamjohnstone.net or by email at dogcia2006@aol.com. Being the all-around assistant, typist, researcher, and fact checker to one of the most popular western authors of all time, J.A. Johnstone learned from the master, Uncle William W. Johnstone. He began tutoring J.A. at an early age. After-school hours were often spent retyping manuscripts or researching his massive American Western history library as well as the more modern wars and conflicts. J.A. worked hard--and learned. "Every day with Bill was an adventure story in itself. Bill taught me all he could about the art of storytelling. 'Keep the historical facts accurate, ' he would say. 'Remember the readers, and as your grandfather once told me, I am telling you now: be the best J.A. Johnstone you can be.'"
or
Not Currently Available for Direct Purchase