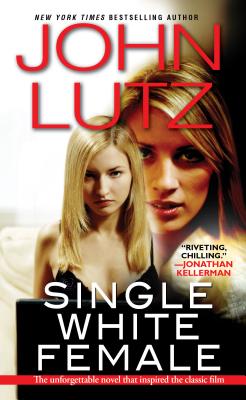 Single White Female (Mass Market)
Pinnacle, 9780786028818, 288pp.
Publication Date: September 4, 2012
* Individual store prices may vary.
Description
Imitation is the deadliest form of flattery. . .

After a messy break-up, Allie Jones finds herself living alone in her New York City apartment, no one to share her bed with--and more urgently, no one to share her rent. The solution seems clear: she needs a roommate. And Hedra Carlson seems perfect--she's shy, quiet. . .safe. But soon Hedra's disturbing envy of Allie's looks and social life becomes unsettling. She wears Allie's clothes, even buys a wig in Allie's color and style. Then the obscene phone calls begin, Allie's credit cards vanish, and she discovers Hedra is living a dangerous double life. . .and far worse. For Hedra's twisted admiration has no limits, the nightmare has just begun, and there will be a bloody price to pay.

"Gotham paranoia at its creepiest." –Kirkus Reviews

"A contemporary horror tale that few readers will be able to put down." –Publishers Weekly

"Single White Female is great!" –Tony Hillerman

"Lutz knows how to make you shiver." –Harlan Coben

"Riveting, chilling." – Jonathan Kellerman
About the Author
John Lutz's work includes political suspense, private eye novels, urban suspense, humor, occult, crime caper, police procedural, espionage, historical, futuristic, amateur detective...virtually every mystery sub-genre. He is the author of more than forty-five novels and 250 short stories and articles. His novels and short fiction have been translated into virtually every language and adapted for almost every medium. He is a past president of both Mystery Writers of America and Private Eye Writers of America. Among his awards are the MWA Edgar, the PWA Shamus, The Trophee 813 Award for best mystery short story collection translated into the French language, the PWA Life Achievement Award, and the Short Mystery Fiction Society's Golden Derringer Lifetime Achievement Award. He is the author of two private eye series, the Nudger series, set in his home town of St. Louis, and the Carver series, set in Florida, as well as many non-series suspense novels. His SWF SEEKS SAME was made into the hit movie SINGLE WHITE FEMALE, starring Bridget Fonda and Jennifer Jason Leigh, and his THE EX was made into the HBO original movie of the same title, for which he co-authored the screenplay. 

When Lutz isn't writing, he's reading, following baseball, dining out with friends, or going to movies. He's a serious movie buff. 
Lutz and his wife, Barbara, split their time between St. Louis and Sarasota, Florida. His latest book is the suspense novel, SERIAL.
or
Not Currently Available for Direct Purchase