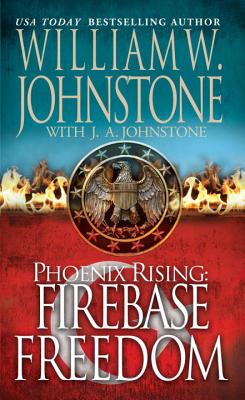 Firebase Freedom (Phoenix Rising #2) (Paperback)
Pinnacle, 9780786030590, 340pp.
Publication Date: December 4, 2012
* Individual store prices may vary.
Description
One Nation, Under God--Theirs

Eighteen months ago, America was invaded from within--by the self-proclaimed "Army of Allah." Now, U.S. veteran Jake Lantz and a ragtag team of survivalists have built a safehold on Pleasure Island. From this home base in the Gulf, they can reclaim our nation's natural gas wells for Phoenix, freedom's last defense against Islamic invaders. But when U.S. President Ohmshidi publicly admits that he is, and has always been, a Muslim, every American is forced to choose sides--or else.  .  .

With Liberty, And Payback, For All

Under presidential order, electric power, privileges, and "peace" will be restored--to any citizen who pledges allegiance to the new regime. Jake and the Phoenix Group are willing to sign up--over their dead bodies. Instead, they're reaching out to patriots across the nation to build an underground network of rebels. Like the Founding Fathers before them, they'll do anything for their country. Swear on their lives. Fight to the death. And blow this "New World Order" to kingdom come.  .  .

First Time In Print!
About the Author
William W. Johnstone is the USA Today and New York Times bestselling author of over 300 books, including Preacher, The Last Mountain Man, Luke Jensen Bounty Hunter, Flintlock, Savage Texas, Matt Jensen, The Last Mountain Man; The Family Jensen, Sidewinders, and Shawn O'Brien Town Tamer . His thrillers include Phoenix Rising, Home Invasion, The Blood of Patriots, The Bleeding Edge, and Suicide Mission. Visit his website at www.williamjohnstone.net or by email at dogcia2006@aol.com.

Being the all-around assistant, typist, researcher, and fact checker to one of the most popular western authors of all time, J.A. Johnstone learned from the master, Uncle William W. Johnstone.  

He began tutoring J.A. at an early age. After-school hours were often spent retyping manuscripts or researching his massive American Western history library as well as the more modern wars and conflicts. J.A. worked hard—and learned.

"Every day with Bill was an adventure story in itself. Bill taught me all he could about the art of storytelling. 'Keep the historical facts accurate,' he would say. 'Remember the readers, and as your grandfather once told me, I am telling you now: be the best J.A. Johnstone you can be.'"
or
Not Currently Available for Direct Purchase