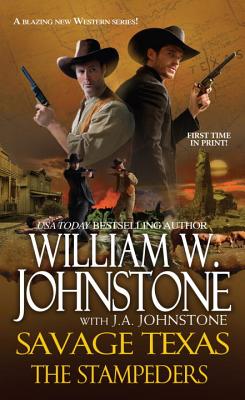 The Stampeders (Savage Texas #3) (Paperback)
Pinnacle, 9780786031368, 336pp.
Publication Date: November 5, 2013
* Individual store prices may vary.
Description
The Greatest Western Writer Of The 21st Century

A Yankee and an outlaw have become unlikely partners in a tough Texas town. In the blockbuster new series by USA Today and New York Times bestselling authors William W. Johnstone and J.A. Johnstone, Sam Heller and Johnny Cross face a stampede of danger--ignited by one pretty little woman. . .

Angel Of Death

When a lovely lady steps off a dusty stagecoach in Hangtree, the hardest heart skips a beat--and Sam Heller falls hard for her. What Hangtree doesn't know, however, is that Julia Pepperday isn't who she pretends to be. She is the daughter of the late Black Ear Skinner, a notorious outlaw who wanted his only child to have all the advantages in life and sent her back east.

Black Ear Skinner's apple hasn't fallen far from the tree, though. Julia has turned her back on the fancy boarding school and set her sights on Hangtree, because that's where Sam Heller has built a hard-earned fortune. Backed by her late father's gang, Julia is out to separate Sam from his money and destroy Hangtree in the process. But while Sam and Hangtree have lost their heads, Johnny Cross has kept his--and he's getting ready for war. . .
About the Author
William W. Johnstone is the USA Today and New York Times bestselling author of over 300 books, including Preacher, The Last Mountain Man, Luke Jensen Bounty Hunter, Flintlock, Savage Texas, Matt Jensen, The Last Mountain Man; The Family Jensen, Sidewinders, and Shawn O'Brien Town Tamer . His thrillers include Phoenix Rising, Home Invasion, The Blood of Patriots, The Bleeding Edge, and Suicide Mission. Visit his website at www.williamjohnstone.net or by email at dogcia2006@aol.com.

Being the all-around assistant, typist, researcher, and fact checker to one of the most popular western authors of all time, J.A. Johnstone learned from the master, Uncle William W. Johnstone.  

He began tutoring J.A. at an early age. After-school hours were often spent retyping manuscripts or researching his massive American Western history library as well as the more modern wars and conflicts. J.A. worked hard—and learned.

"Every day with Bill was an adventure story in itself. Bill taught me all he could about the art of storytelling. 'Keep the historical facts accurate,' he would say. 'Remember the readers, and as your grandfather once told me, I am telling you now: be the best J.A. Johnstone you can be.'"
or
Not Currently Available for Direct Purchase