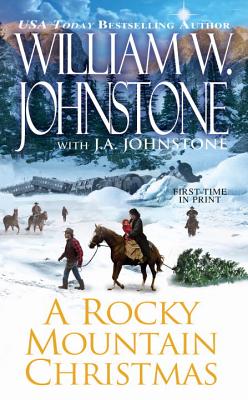 A Rocky Mountain Christmas (Mass Market Paperbound)
Pinnacle Books, 9780786031382, 400pp.
Publication Date: October 30, 2012
* Individual store prices may vary.
or
Not Currently Available for Direct Purchase
Description
The families Jensen and MacCallister are two of the most legendary clans in frontier fiction. Now, the "USA Today" bestselling authors of "A Lone Star Christmas" bring them together once more--in a gripping tale of tragedy, survival, love, betrayal, and maybe even a miracle. . .
Three days before Christmas, Matt Jensen is traveling the Denver and Pacific railway when an avalanche slams down onto the train, trapping it in desolate Trout Creek Pass. But it wasn't an act of nature that caused the accident; it was a gang of outlaws attempting to rescue their leader, who is being taken to Red Cliff to be hanged.
As Smoke Jensen and Duff MacCallister frantically try to make their way to the scene, Matt struggles to save the survivors, among them a beautiful young woman with a dark past, a merchant seaman turned rancher, and a senator with his very ill young daughter. Starving under a bitter, driving snow in the brutal, unforgiving Rocky Mountains, and surrounded by armed and desperate outlaws, Matt still dreams of making it home for Christmas. But unless fate lends a hand, nobody will.
About the Author
William W. Johnstone is the USA Today and New York Times bestselling author of over 300 books, including PREACHER, THE LAST MOUNTAIN MAN, LUKE JENSEN BOUNTY HUNTER, FLINTLOCK, SAVAGE TEXAS, MATT JENSEN, THE LAST MOUNTAIN MAN; THE FAMILY JENSEN, SIDEWINDERS, and SHAWN O'BRIEN TOWN TAMER. His thrillers include Phoenix Rising, Home Invasion, The Blood of Patriots, The Bleeding Edge, and Suicide Mission. Visit his website at www.williamjohnstone.net or by email at dogcia2006@aol.com. Being the all-around assistant, typist, researcher, and fact checker to one of the most popular western authors of all time, J.A. Johnstone learned from the master, Uncle William W. Johnstone. He began tutoring J.A. at an early age. After-school hours were often spent retyping manuscripts or researching his massive American Western history library as well as the more modern wars and conflicts. J.A. worked hard--and learned. "Every day with Bill was an adventure story in itself. Bill taught me all he could about the art of storytelling. 'Keep the historical facts accurate, ' he would say. 'Remember the readers, and as your grandfather once told me, I am telling you now: be the best J.A. Johnstone you can be.'"
Advertisement