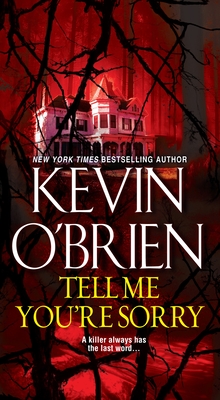 Tell Me You're Sorry (Mass Market Paperbound)
Pinnacle Books/Kensington, 9780786031603, 535pp.
Publication Date: April 29, 2014
Description
First You'll Say You're Sorry
A family is wiped out after a burglary gone wrong. An executive accused of embezzling kills himself and his loved ones. A house fire claims the lives of all its inhabitants. Separate incidents with two common threads--a first wife who took her own life, and a secret the victims took to their graves. . .
And Then
Stephanie Coburn has barely recovered from her sister's mysterious suicide before her brother-in-law and his new wife are murdered, her face disfigured beyond recognition. Stephanie never met the bride, has never even seen a clear photograph. But she knew her sister, and she knows something is desperately wrong. . .
You'll Say Goodbye
The police won't listen. Her only ally is another victim's son. Step by step, they're uncovering a trail of brutal vengeance and a killer who will never relent--and whose forgiveness can only be earned in death. . .
Praise for Kevin O'Brien
"A genuine page-turner." --"The Seattle Times "on "Terrified"
"If Alfred Hitchcock was alive today and writing novels, his name would be Kevin O'Brien." --"Press & Guide "on "Unspeakable.
About the Author
Before his thrillers landed him on the "New York Times "bestseller list, Kevin O Brien was a railroad inspector who wrote novels at night. He moved from the train tracks to writing full-time in 1997, when his novel, "ONLY SON," was picked up by Readers Digest and optioned for film, thanks to interest from Tom Hanks. Since then, five of his novels have been "USA Today "and "New York Times "bestsellers and his books have been published in into fourteen languages. O Brien s 17th novel, "YOU LL MISS ME WHEN I M GONE, "will be released by Kensington Publishing in August 2016. Born and raised in Chicago, he now lives in Seattle, where he is on the board of Seattle 7 Writers (www.seattle7writers.org), a collective of bestselling, award-winning authors that includes Garth Stein, Maria Semple, Jess Walters, Tim Robbins, Erik Larson, Terry Brooks, Erica Bauermeister, Susan Wiggs, Jennie Shortridge and Elizabeth George. Please visit Kevin online at KevinOBrienBooks.com."
Advertisement