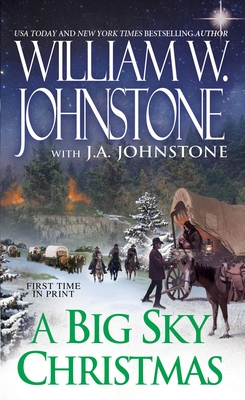 A Big Sky Christmas (Mass Market Paperbound)
Pinnacle Books, 9780786032679, 411pp.
Publication Date: October 29, 2013
* Individual store prices may vary.
or
Not Currently Available for Direct Purchase
Description
From the masters of frontier fiction comes a holiday tale set in the very heart of America--a Western saga of courageous souls coming together, with a little help from the Jensen family. . .
In the fall of 1873, a wagon train of immigrants sets off from Kansas City, Missouri, bound for the Montana Territory. Leading the group is newly elected wagonmaster Jamie Ian MacCallister, a giant of a man and frontier legend who swears he can get them there by Christmas--come hell or high snow drifts. . .
Plagued by brutally harsh storms and rugged terrain, outlaws and hostile Indians, the journey will be the greatest challenge these pioneers will ever face. But when things look nearly hopeless, help arrives in the form of two unlikely saviors: an old mountain man known as Preacher and legendary frontiersman Smoke Jensen. Two hard-willed men who believe in the settlers' dreams with all their hearts--and who will get them to their destination by Christmas. Even if it takes a miracle. . .
About the Author
William W. Johnstone is the USA Today and New York Times bestselling author of over 300 books, including PREACHER, THE LAST MOUNTAIN MAN, LUKE JENSEN BOUNTY HUNTER, FLINTLOCK, SAVAGE TEXAS, MATT JENSEN, THE LAST MOUNTAIN MAN; THE FAMILY JENSEN, SIDEWINDERS, and SHAWN O'BRIEN TOWN TAMER. His thrillers include Phoenix Rising, Home Invasion, The Blood of Patriots, The Bleeding Edge, and Suicide Mission. Visit his website at www.williamjohnstone.net or by email at dogcia2006@aol.com. Being the all-around assistant, typist, researcher, and fact checker to one of the most popular western authors of all time, J.A. Johnstone learned from the master, Uncle William W. Johnstone. He began tutoring J.A. at an early age. After-school hours were often spent retyping manuscripts or researching his massive American Western history library as well as the more modern wars and conflicts. J.A. worked hard--and learned. "Every day with Bill was an adventure story in itself. Bill taught me all he could about the art of storytelling. 'Keep the historical facts accurate, ' he would say. 'Remember the readers, and as your grandfather once told me, I am telling you now: be the best J.A. Johnstone you can be.'"
Advertisement