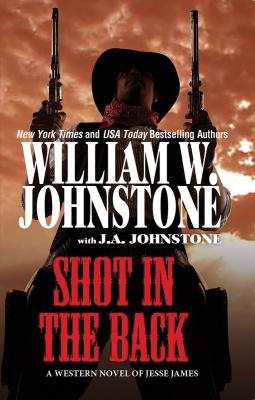 Shot in the Back (Mass Market)
Pinnacle, 9780786034482, 368pp.
Publication Date: May 26, 2015
* Individual store prices may vary.
Description
THE GREATEST WESTERN WRITERS OF THE 21ST CENTURY

From the greatest western storytellers of our time comes a new twist on the legend of notorious outlaw Jesse James—who just might not have died on that fateful April 3, 1882.

1942—Granbury, Texas. A ninety-five-year-old man walks into a recruiting office with the crazy idea to enlist—and an even crazier story. He claims to be the one and only Jesse James, the infamous bank robber allegedly shot by Robert Ford sixty years earlier. Using another man's corpse to collect the reward, Ford allowed James to slip away and start a new life. Changing his name to Dalton, Jesse worked as a cattle broker in Fort Worth and fathered a pair of twins named Bill and Frank. But when one of the boys turns out to be a chip off the old block—a young outlaw in the making—Jesse has no choice but to school the lad in the fine art of bank robbing so he doesn't get his fool head blown off. Problem is, once Jesse's son gets a taste of the outlaw life, he decides it isn't for him after all. Father Jesse, on the other hand, misses it…

So begins the wildest story the West has never known, proving that some legends are bigger than life—and a lot harder to kill…
About the Author
William W. Johnstone is the USA Today and New York Times bestselling author of over 300 books, including Preacher, The Last Mountain Man, Luke Jensen Bounty Hunter, Flintlock, Savage Texas, Matt Jensen, The Last Mountain Man; The Family Jensen, Sidewinders, and Shawn O'Brien Town Tamer . His thrillers include Phoenix Rising, Home Invasion, The Blood of Patriots, The Bleeding Edge, and Suicide Mission. Visit his website at www.williamjohnstone.net or by email at dogcia2006@aol.com.

Being the all-around assistant, typist, researcher, and fact checker to one of the most popular western authors of all time, J.A. Johnstone learned from the master, Uncle William W. Johnstone.  

He began tutoring J.A. at an early age. After-school hours were often spent retyping manuscripts or researching his massive American Western history library as well as the more modern wars and conflicts. J.A. worked hard—and learned.

"Every day with Bill was an adventure story in itself. Bill taught me all he could about the art of storytelling. 'Keep the historical facts accurate,' he would say. 'Remember the readers, and as your grandfather once told me, I am telling you now: be the best J.A. Johnstone you can be.'"
Praise For Shot in the Back…
"Johnstone is a masterful storyteller."

—Publishers Weekly
or
Not Currently Available for Direct Purchase