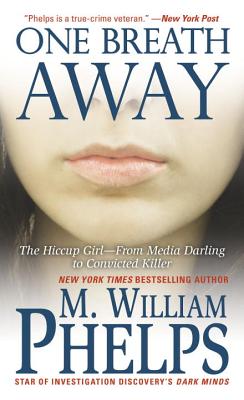 One Breath Away (Mass Market Paperbound)
The Hiccup Girl - From Media Darling to Convicted Killer
Pinnacle Books, 9780786035014, 448pp.
Publication Date: February 23, 2016
Description
"Phelps is a true-crime veteran."--New York Post
"Phelps is the Harlan Coben of real-life thrillers." --Allison Brennan
When she was 15, Jennifer Mee developed an unrelenting case of the hiccups--hiccupping as many as 50 times a minute for months. Soon the Florida teen's strange story went viral. Dubbed the "Hiccup Girl" by the media, she gained international sympathy and appeared on a slew of popular TV shows. Eventually, Jennifer's hiccups went away--and so did her fame.
Depressed and craving affection, Jennifer hooked up with the wrong people and slipped into drug dealing and street life--a downward spiral that led to the murder of an innocent young man. Now, renowned investigative journalist M. William Phelps expertly recounts Jennifer's shocking true story of thwarted desires, betrayed trust, and deadly manipulation.
"Phelps is the king of true crime." --Lynda Hirsch, Creators Syndicate columnist
"Phelps dares to tread where few others will: into the mind of a killer." --TV Rage
Includes 16 Pages Of Dramatic Photos
About the Author
New York Times bestselling investigative journalist and serial killer expert M. William Phelps is the author of twenty-six nonfiction books. Winner of the 2008 New England Book Festival Award for I'll Be Watching You, as well as the 2013 Excellence in Journalism Award, Phelps has appeared on nearly 100 television shows, including CBS's Early Show, ABC's Good Morning America, NBC's Today Show, The View, TLC, BIO Channel, and History Channel. Phelps also created, produces and stars in the hit Investigation Discovery series Dark Minds, which is in its third season; and is one of the stars of ID's Deadly Women. Radio America calls him "the nation's leading authority on the mind of the female murderer." Profiled in such noted publications as Writer's Digest, Connecticut Magazine, NY Daily News, NY Post, Newsday, Suspense Magazine, and the Hartford Courant, Phelps has also consulted for the Showtime cable television series Dexter and written for Connecticut Magazine. Touched by tragedy himself, due to the unsolved murder of his sister-in-law, Phelps is able to enter the hearts and minds of his subjects like no one else. He lives in a small Connecticut farming community and can be reached at his author website, www.mwilliamphelps.com.
Advertisement