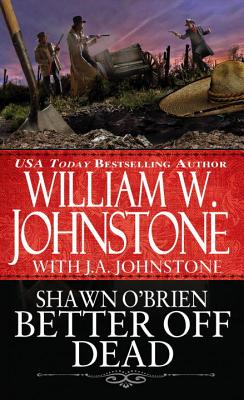 Better off Dead (Shawn O'Brien #3) (Mass Market)
Pinnacle, 9780786035670, 384pp.
Publication Date: February 23, 2016
* Individual store prices may vary.
Description
The Greatest Western Writers Of The 21st Century

From America's bestselling Western authors comesthis violent saga of the frontier legend known as the Town Tamer: the man who appears when all justice has fled…

Feed The Beast--Or Die

On the West Texas border a behemoth is bellowing smoke, fire and death. This monster is the infamous Abaddon Cannon Foundry, whose weapons of war have spread death and destruction around the world--and made a few men in Big Buck, Texas, incredibly rich. Now, a Mexican-born teenager has disappeared into this fortress factory, where men work and sweat as slaves. This boy's sister wants to learn her brother's fate, and she just happens to know a man named Shawn O'Brien, the town tamer. Shawn rides to Texas to find the missing boy. What he discovers in Big Buck will spark a ferocious, bloody battle with the greatest evil the West ever known: masters of war who (laugh in the face of anyone who defies them--until Shawn O'Brien raises his six gun. Then the laughing stops.
About the Author
William W. Johnstone is the USA Today and New York Times bestselling author of over 220 books, including the popular Ashes, Mountain Man, and Last Gunfighter series. Visit his website at www.williamjohnstone.net or by email at dogcia@aol.com.

Being the all around assistant, typist, researcher, and fact checker to one of the most popular western authors of all time, J.A. Johnstone learned from the master, Uncle William W. Johnstone. Bill, as he preferred to be called, began tutoring J.A. at an early age. After-school hours were often spent retyping manuscripts or researching his massive American Western History library as well as the more modern wars and conflicts. J.A. worked hard--and learned. "Every day with Bill was an adventure story in itself. Bill taught me all he could about the art of storytelling and creating believable characters. 'Keep the historical facts accurate,'  he would say. 'Remember the readers, and as your grandfather once told me, I am telling you now: be the best J.A. Johnstone you can be.'" The Loner marked the debut of Tennessee-based J.A. Johnstone as a solo author.
or
Not Currently Available for Direct Purchase