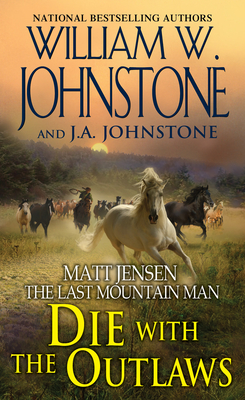 Die with the Outlaws (Matt Jensen/Last Mountain Man #11) (Mass Market)
Pinnacle, 9780786035793, 336pp.
Publication Date: April 28, 2020
* Individual store prices may vary.
Description
The 11th book in the New York Times and USA Today bestselling series--a spinoff of William W. Johnstone's Mountain Man and Preacher series--featuring the legendary Matt Jensen, a man with survival and justice in his blood.

On the lawless frontiers of the American West, there is one rule every outlaw should remember: Never cross a mountain man like Matt Jensen. Not if you want to keep breathing.

No gun. No horse. No water or food. And worse yet: No idea how he ended up in the middle of a desert with a bullet in his leg and a bump on his head. That's the sorry situation Matt Jensen wakes up to--dazed and confused--until he slowly pieces together what happened. The last thing he remembers: He agreed to help out a friend of Duff MacCallister's. A pretty lady and her husband at a horse ranch. He also recalls their cross-country trip through hell to deliver the horses safely to market. That's when the outlaws showed up. That's when the shooting began. That's when everything went dark . . .

But now Matt Jensen is alive and well and living for revenge. No time to lose. No holding back. And before it's all over, no trigger-happy horse thief will be left standing...
About the Author
William W. Johnstone is the New York Times and USA Today bestselling author of over three hundred novels of Western adventure, military action, and chilling suspense, and with over 35 million books in print, he is the bestselling Western writer in the world. Born in southern Missouri, he was raised with strong moral and family values by his minister father, and tutored by his school teacher mother. He left school at fifteen to work in a carnival and then as a deputy sheriff before serving in the army. He went on to become known as "the Greatest Western writer of the 21st century." Visit him online at WilliamJohnstone.net.

J.A. Johnstone learned to write from the master himself, Uncle William W. Johnstone, who began tutoring J.A. at an early age. After-school hours were often spent retyping manuscripts or researching his massive American Western History library as well as the more modern wars and conflicts. J.A. worked hard--and learned. "Every day with Bill was an adventure story in itself. Bill taught me all he could about the art of storytelling. 'Keep the historical facts accurate,' he would say. 'Remember the readers, and as your grandfather once told me, I am telling you now: be the best Johnstone you can be." J.A. Johnstone has co-written numerous bestselling series with William W. Johnstone including The First Mountain Man, The Brothers O'Brien, and Preacher, The Last Mountain Man.