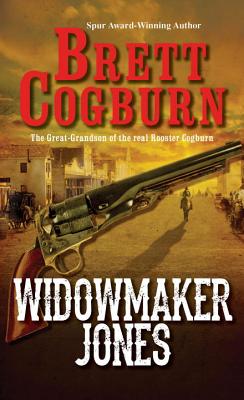 Widowmaker Jones (A Widowmaker Jones Western #1)
Mass Market

* Individual store prices may vary.
Other Editions of This Title:
Paperback, Large Print (11/16/2016)
Description
From the great-grandson of famed U.S. Marshal Rooster Cogburn comes an authentic new "True Grit" Western classic.

With a bag full of gold dust, Newt "Widowmaker" Jones is set for life. Then he makes his first mistake, trusting a cheerful stranger. By dawn the stranger--Javier Cortina, the son of the famous Texas border bandit, Juan "Red" Cortina--is gone. So is the gold. So are Newt's horse and even his fearsome Colt .44. It's enough to make a man want vengeance. And vengeance will be Newt's.

Newt chases Cortina into Mexico, where the man is legendary for the horses he's stolen, the women he's bedded, and the men he's killed. As for Newt, he has a unique talent for choosing the wrong partners, from an angry, addled judge named Roy Bean to a brother and sister pair of circus gypsies, Fonzo Grey and Buckshot Annie. The more Newt pursues the cunning and deadly Cortina, the angrier he gets, until somewhere on the border the whole crazy journey explodes into an all-out battle of bullets and blood. . ..

Praise for Spur Award winner Brett Cogburn:

"Fans of frontier arcana will revel in Cogburn's readable prose and lively characters." --Publishers Weekly on Rooster

"Cogburn amazes and astounds." --Booklist
Pinnacle, 9780786036714, 384pp.
Publication Date: July 26, 2016
About the Author
Some folks are just born to tell tall tales. Brett Cogburn was reared in Texas and the mountains of Southeastern Oklahoma. He was fortunate enough for many years to make his living from the back of a horse, where on cold mornings cowboys still straddled frisky broncs and dragged calves to the branding fire on the end of a rope from their saddlehorns. Growing up around ranches, livestock auctions, and backwoods hunting camps filled Brett's head with stories, and he never forgot a one. In his own words: "My grandfather taught me to ride a bucking horse, my mother gave me a love of reading, and my father taught me how to hunt my own meat and shoot straight. Cowboys are just as wild as they ever were, and I've been damn lucky to have known more than a few." The West is still teaching him how to write. Brett Cogburn lives in Oklahoma with his family.