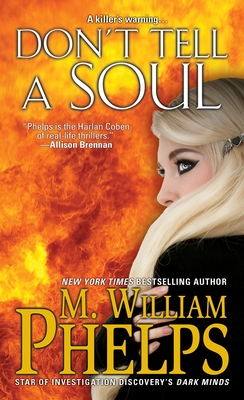 Don't Tell a Soul (Mass Market Paperbound)
Pinnacle Books, 9780786037261, 496pp.
Publication Date: February 28, 2017
Description
"Phelps is a true-crime veteran." --New York Post Cherry Walker was a devoted, trusting, uncommonly innocent young woman who loved caring for a neighbor's little boy. But when she was asked to testify in court against his abusive mother, Cherry never got the chance. She couldn't lie if her life depended on it--and it did. Cherry's body was found on the side of a Texas road, after being doused with lighter fluid and set aflame. Attractive, manipulative, and violent, mother of four Kim Cargill had a wealth of dirty secrets she'd do anything to keep hidden. This in-depth account by bestselling investigative journalist M. William Phelps takes you inside Cargill's shocking trial--and into the mind of one of the most conniving female psychopaths in recent history--and on death row. "Anything by Phelps is an eye-opening experience." --Suspense Magazine

"Phelps dares to tread where few others will: into the mind of a killer." --TV Rage "Phelps is the king of true crime." --Lynda Hirsch, Creators Syndicate columnist "One of our most engaging crime journalists." --Dr. Katherine Ramsland

INCLUDES 16 PAGES OF DRAMATIC PHOTOS
About the Author
New York Times bestselling investigative journalist and serial crime expert M. William Phelps is the author of thirty-one nonfiction books. Winner of the 2013 Excellence in Journalism Award, with over one million books in print, Phelps has appeared on over 100 television shows, including CBS's Early Show, ABC's Good Morning America, NBC's Today Show, The View, and many others. Phelps also created, produced and starred in the series Dark Minds; and is one of the stars of Deadly Women and Oxygen's Snapped. Radio America calls him "the nation's leading authority on the mind of the female murderer." Profiled in such noted publications as Writer's Digest, Connecticut Magazine, NY Daily News, NY Post, Newsday, Suspense Magazine, and the Hartford Courant, Phelps also consulted on the first season of the Showtime cable television series Dexter; he has written for Connecticut Magazine, Huffington Post, the Providence Journal, and other major publications. Touched by tragedy himself, due to the unsolved murder of his sister-in-law, Phelps is able to enter the hearts and minds of his subjects like no one else. He lives in a small Connecticut farming community and can be reached at his author website, www.mwilliamphelps.com.
Advertisement