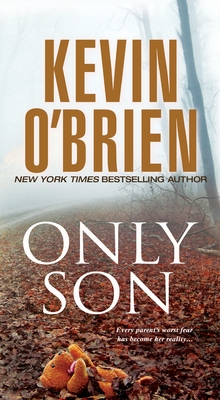 Only Son (Mass Market)
Pinnacle, 9780786039869, 448pp.
Publication Date: February 28, 2017
* Individual store prices may vary.
Description
Every parent's worst fear has become her reality…

SOME LIES
It only takes a minute for Amy McMurray to run from her car to the cash machine. That brief, unforgivable minute is enough time for her infant son to be snatched from the back seat and for Amy's family, her marriage, and her peace of mind to be shattered beyond repair.

ARE TOO CLOSE
To everyone who meets him, Carl Jorgenson seems an exemplary single father. His son, Sam, is bright, considerate, and devoted to his dad. Only Carl knows about Sam's real identity and about his own unthinkable crime.

TO BE SEEN
One careless slip, one chance meeting is all it will take for the devastating truth to be revealed. Sam is growing up, asking questions, increasingly suspicious that the life he believes in is a lie. But with that knowledge comes dread. Because when someone has risked everything to create a family, how far will they go to protect it?
 
"A fast-paced, powerful novel." --Seattle Post Intelligencer
About the Author
KEVIN O'BRIEN is the New York Times and USA Today bestselling author of over twenty suspense novels. Before his books landed him on the bestseller lists, he was a railroad inspector who wrote at night. He moved from the train tracks to become a full-time author in 1997 when his novel, Only Son, was picked up by Reader's Digest and optioned for film. Since then, his books have been translated into fourteen languages. Born and raised in Chicago, O'Brien now lives in Seattle, where he is on the board of Seattle 7 Writers, a collective of bestselling, award-winning authors. He can be found online at KevinOBrienbooks.com/.
Praise For Only Son…
Dear Reader,

This is a spoiler alert. No one is murdered in this book!

Only Son was my second novel, written in 1996, before I started writing thrillers. While the body count is zero, I think you'll still find plenty of suspense, surprises and excitement in Only Son. If you've read some of my thrillers, you'll be in familiar territory here. The story is set in the Pacific Northwest. There's a single mother, searching for her missing son. There's also a devoted, single dad with a dark secret. And then there's Sam Jorgenson, the first in a long line of complex teenage characters to appear in my novels. He's still one of my favorites.

Since this novel is over twenty years old, you'll have to go back to a time before Smart Phones, global warming awareness, the Internet, Facebook, Twitter, X-Boxes, DNA testing, security lines in airports, Fox News and the Kardashians.

So—please, adjust your reading accordingly.

Many readers—good friends and family members among them—have told me that Only Son is still their favorite of my books. I've always had a soft spot for this novel. I wrote it when I was still a railroad inspector. But thanks to the sales from this book, I became a full-time author. It was also the first of sixteen books (so far) that I've written with my editor, John Scognamiglio, at Kensington Publishing.

I'm thrilled Kensington has brought Only Son back into print after two decades. I hope it's a hit with you.

Thanks so much for picking it up!

Kevin O'Brien
or
Not Currently Available for Direct Purchase