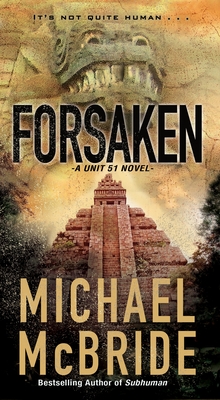 Forsaken (A Unit 51 Novel #2) (Mass Market)
Pinnacle, 9780786041602, 432pp.
Publication Date: April 24, 2018
Other Editions of This Title:
Compact Disc (5/29/2018)
MP3 CD (5/29/2018)
* Individual store prices may vary.
Description
"McBride writes with the perfect mixture of suspense and horror
that keeps the reader on edge." —Examiner
 
IT HAS SURVIVED
At a research station in Antarctica, scientists discovered a strange and ancient organism. They thought they could study it, classify it, control it. They couldn't.
 
IT HAS THRIVED
Six months ago, a secret paramilitary team called Unit 51 was sent to the station. They thought the creature was dead, the nightmare was over. It wasn't.
 
IT HAS EVOLVED
In a Mexican temple, archeologists uncover the remains of a half-human hybrid. They believe it is related to the creature in Antarctica, a dark thing of legend that is still alive—and still evolving. They believe it needs a new host to feed, to mutate, to multiply. They're right. And they're next. And the human race might just be headed for extinction  . . .
 
"Highly recommended for fans of creature horror
and the thrillers of Michael Crichton."
—The Horror Review
 
"Thriller powerhouse McBride begins his Unit 51 series . . . neatly executes a sudden shift of mood and tone toward frantic horror when the story flips into a race to escape from savage human-alien hybrid predators in a confined space, evoking feelings of shock and terror."
—Publishers Weekly on Subhuman

"This novel is for everyone who's still a little scared of the dark . . . a very good sci-fi/thriller; I'll read whatever McBride writes next."
—Ken Raymond, The Oklahoman on Subhuman.

About the Author
Michael McBride was born in Colorado and still resides in the shadow of the Rocky Mountains. He hates the snow, but loves the Avalanche. He works with medical radiation, yet somehow managed to produce five children, none of whom, miraculously, have tails, third eyes, or other random mutations. He writes fiction that runs the gamut from thriller (Remains) to horror to science fiction (Vector Borne, Snowblind) . . . and loves every minute of it. He is a two-time winner of the DarkFuse Readers' Choice Award. You can visit him at author.michaelmcbride.net.
Praise For Forsaken (A Unit 51 Novel #2)…
"McBride blends intricate science fiction and visceral horror in his frightening and sharp second Unit 51 novel…McBride immerses the reader in the lead-up to a catastrophic, gruesome détente. The dangers from adversaries both human and supernatural will draw readers to the next book of the series." —Publishers Weekly  

"An incredible follow-up to the phenomenal SUBHUMAN, from an author whose imagination knows no boundaries.  Michael McBride just keeps getting better and better." —Horror After Dark
 
"It's a terrific sequel, brimming with menace, action, and suspense." —Mystery Scene
 
"A breathless, oxygen-deprived framework intensifying the terror of the written word" —The New York Journal of Books

"Michael McBride writes kick-ass, non-stop action with the best of them. Forsaken is a book that demands your attention from the moment the first death happens and doesn't let up until it's over." —SciFi and Scary

"McBride seamlessly blends scientific thrills with plenty of action, globe-hopping adventure, and some moments of delicious horror, all of which add up to a gripping read…" —High Fever Books