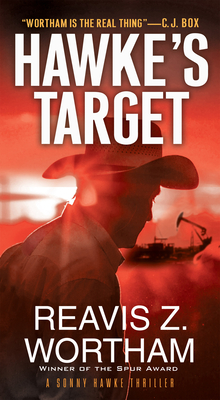 Hawke's Target (A Sonny Hawke Thriller #3) (Mass Market)
Pinnacle, 9780786041800, 304pp.
Publication Date: June 25, 2019
* Individual store prices may vary.
Description
"There's a term we use in the west, the genuine article, and those words fit Reavis Wortham to a Texas T."
—Craig Johnson
 
"If you look for authenticity in your books, you'll swoon over Reavis Wortham. He's Texas true."
—C. J. Box
 
"Think: Elmore Leonard meets James Lee Burke."
—Jeffery Deaver
 
Judge. Jury. Executioner. One man is taking the law into his own hands. His targets are criminals who slipped through the justice system. From California to Texas, this relentless avenger hunts down the unpunished and sentences them to death.
 
But now he's on Sonny Hawke's turf. A Texas Ranger committed to his job, Hawke will not abide vigilante justice—especially when innocents are also in the line of fire. The trail of bodies stretches across the Lone Star State to the most savage clan East Texas has ever seen. And Hawke is the only one who can stop them . . .
 
"Wortham knows how to ratchet tension with pitch-perfect West-Texas flavor."
—Lone Star Literary Life
About the Author
Reavis Z. Wortham launched his acclaimed Sonny Hawke thriller series with Hawke's Prey and followed up with Hawke's War. He is also the award-winning author of the Red River Mystery series, including Unraveled, The Right Side of Wrong, Vengeance is Mine, Dark Places, Burrows, and The Rock Hole (winner of the Benjamin Franklin Award). He is a member of the Mystery Writers of America, the Writers' League of Texas, the International Association of Crime Writers, Western Writers of America, and International Thriller Writers. Each week Reavis pens a self-syndicated weekly outdoor column for numerous Texas newspapers, writing on everything from fishing to deer hunting. He lives in northeast Texas with his wife. Please visit him on Facebook or at his website: reaviszwortham.com.