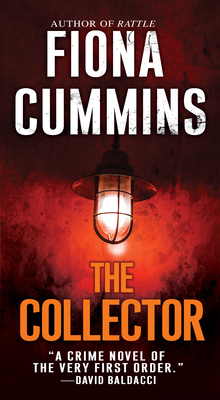 The Collector (The Collector Series #2) (Mass Market)
Pinnacle, 9780786042609, 432pp.
Publication Date: December 18, 2018
* Individual store prices may vary.
Description
"A crime novel of the very first order." —David Baldacci
 
In Fiona Cummins' new novel of taut psychological suspense, an elusive psychopath meets his match in a detective who's just as ruthless—a woman who knows all too well that the best mind games are played in the dark . . .
 
It was only months ago that Detective Sergeant Etta Fitzroy was held captive by serial killer Brian Howley. Incredibly, she escaped. But so did he. What was found in the macabre museum Howley called home was unnerving enough. For Fitzroy, what the Butcher of Bromley didn't leave behind chills her to the bone: not a single trace of his most recent abductee. All Fitzroy wants to know now is . . . dead or alive, where is the girl?
 
Hiding in plain sight with a new name and a new identity, Howley is making plans for an ingenious new start, and he's daring Fitzroy to come along. Clue by terrifying clue, she's following in a killer's footsteps, but even she can't imagine where they'll lead. Because Howley's endgame has a terrifying twist—one that will not only change his fate, but the fate of everyone Fitzroy is risking her life to protect.
 
Praise for Rattle
 
"Harrowing and horrifying." —Val McDermid
 
"Up there with the best of them . . . an exceptionally creepy psychopathic killer." —The Times
 
"Gripping. A total page‑turner." —D E Meredith
 
"Left me breathless with fear." —Michelle Davies
About the Author
FIONA CUMMINS is a graduate of the prestigious Faber Academy in London and an award‑winning journalist. She spent twelve years at Britain's Daily Mirror newspaper as its chief showbiz reporter, interviewing celebrities from Michael Jackson to George Clooney. She was named Showbusiness Reporter of the Year at the British Press Awards in 2007, and has been nominated four times. Now freelance, her work has appeared in numerous UK publications, as well as appearing on several national TV programs. She lives in Essex with her husband and two children.
Praise For The Collector (The Collector Series #2)…
"With a creepy and menacing undertone and one of the scariest antagonists ever, this is sure to give readers nightmares. Cummins excels at raising the level of dread and suspense, and this unpredictable, impossible-to-put-down read is dark, gripping, and eerie. VERDICT- Highly recommended for fans of Karin Slaughter and those who love well-written psychological thrillers."
—Library Journal starred review
or
Not Currently Available for Direct Purchase