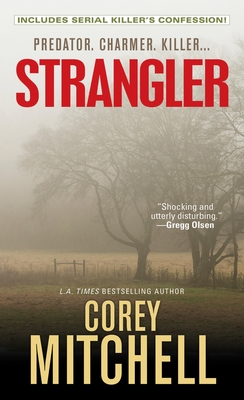 Strangler (Mass Market)
Pinnacle, 9780786042623, 384pp.
Publication Date: January 30, 2018
Other Editions of This Title:
Mass Market Paperbound (9/1/2007)
* Individual store prices may vary.
Description
To the outside world, Anthony Allen Shore was an average guy: a twice-divorced father who drove a tow truck in suburban Houston. Handsome and charismatic, he generally kept a low profile. But in his mind he was a superstar . . .
 
A musical prodigy who never realized his potential, Shore found a way to outsmart society—by getting away with murder. And he wanted the whole world to know it. After brutally killing a 16-year-old girl, he called the local NBC affiliate and told an editor precisely where to find her body.
 
Eight years passed before DNA evidence caught up with Shore. Subsequent police investigations revealed a violent megalomaniac who had sexually abused his own daughters. He confessed to murdering four females, one only nine years old. And he hinted at many, many more—leading authorities to believe that Anthony Allen Shore could even be the notorious "I-45 Serial Killer," whose bloody legacy had earned for one Texas highway the grisly moniker "Corridor of Blood." Bestselling author Corey Mitchell recounts the case from its twisted beginnings to its chilling conclusion . . .
 
"A must-read, cautionary tale of manipulation, control, and murder."
--Diane Fanning
 
"Corey Mitchell empathized with crime victims in a unique and personal way. That empathy is evident in every true crime book he wrote." —Suzy Spencer
 
"No one faces evil head-on like Corey Mitchell." —Gregg Olsen
 
Includes 16 Pages of Haunting Photos
About the Author
Corey Mitchell wrote several bestselling true crime books including Hollywood Death Scenes, Dead and Buried, Evil Eyes, Savage Son, Strangler, Murdered Innocence, and Pure Murder. He was also the founder of the #1 true crime blog, In Cold Blog, and a contributing editor for MetalSucks, the #1 website for heavy metal news. He co-founded Austin's Housecore Horror Film Festival and co-authored Philip H. Anselmo's Mouth for War: Pantera and Beyond.
or
Not Currently Available for Direct Purchase