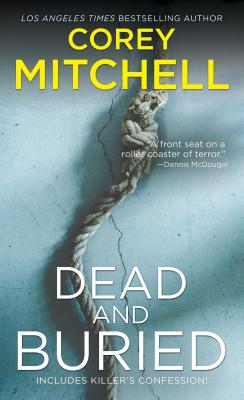 Dead and Buried (Mass Market)
Pinnacle, 9780786042661, 400pp.
Publication Date: August 28, 2018
Other Editions of This Title:
Mass Market Paperbound (5/1/2011)
* Individual store prices may vary.
Description
"No one faces evil head-on like Corey Mitchell." —Gregg Olsen
 
"If I am not a monster . . ."
 
Two young, attractive women. Both savagely attacked, brutalized, raped, and murdered. Rachel Newhouse disappeared on the night of November 12, 1998, in San Luis Obispo, California. Only months later, in the same town, Aundria Crawford lost her life in an act of unimaginable violence.
 
As authorities worked to find clues to the killer's identity, parole officer David Zaragoza paid a routine visit to one of his charges—Rex Allan Krebs, a violent serial rapist who'd served only ten years of a twenty-year sentence. After sending Krebs back to jail for violating his parole, Zaragoza found a keychain belonging to one of the victims. An intensive search led to the gruesome discovery of buried remains near Krebs's secluded cabin. In his confession, Krebs asked, "If I am not a monster, then what am I?" A jury responded by sentencing him to death by lethal injection.
 
"Corey Mitchell empathized with crime victims in a unique and personal way. That empathy is evident in every true crime book he wrote." —Suzy Spencer
 
"Some of the most up-close, incisive true-crime coverage in a long time." —Poppy Z. Brite
 
"A powerful and frightening book. It is not to be missed."
—Dana Holliday
About the Author
Corey Mitchell wrote several bestselling true crime books including Hollywood Death Scenes, Dead and Buried, Evil Eyes, Savage Son, Strangler, Murdered Innocence, and Pure Murder. He was also the founder of the #1 true crime blog, In Cold Blog, and a contributing editor for MetalSucks, the #1 website for heavy metal news. He co-founded Austin's Housecore Horror Film Festival and co-authored Philip H. Anselmo's Mouth for War: Pantera and Beyond.