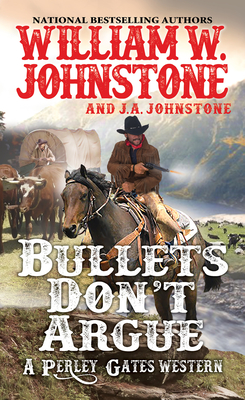 Bullets Don't Argue (A Perley Gates Western #3) (Mass Market)
Pinnacle, 9780786043668, 352pp.
Publication Date: September 24, 2019
Other Editions of This Title:
Library Binding, Large Print (4/8/2020)
Compact Disc (11/26/2019)
MP3 CD (11/26/2019)
* Individual store prices may vary.
Description
A new kind of hero in the Old West tradition, Perley Gates is as honest and good as his heavenly name. But don't make him mad. Because when Perley Gates gets mad, people get hurt. 
 
Once every year, Perley Gates and his brothers lead the Triple-G crew on its annual cattle drive. It's a treacherous journey along the Great Western Trail, with a herd of two-thousand cows on one side and many opportunities for trouble on the other. This year, trouble shows up in the form of a beautiful young woman, her little baby, and her bizarre traveling companion—a colorful old cuss who goes by the name of Possom Smith. They're heading to a settlement called Butcher Bottom, and risking their necks to get there. Perley—being the gentleman he is—offers to escort the trio to their destination. But there are a few minor details they "forgot" to tell Perley . . .
 
The woman is a widow whose husband had enemies. The old man is hiding a small fortune that might get them killed. And Perley is stuck in the middle trying to decide who's good, who's bad—and who deserves to die first . . .
 
Live Free. Read Hard.
About the Author
William W. Johnstone is the New York Times and USA Today bestselling author of over 300 books, including the series THE MOUNTAIN MAN; PREACHER, THE FIRST MOUNTAIN MAN; MACCALLISTER; LUKE JENSEN, BOUNTY HUNTER; FLINTLOCK; THOSE JENSEN BOYS; THE FRONTIERSMAN; THE LEGEND OF PERLEY GATES, THE CHUCKWAGON TRAIL, FIRESTICK, SAWBONES, and WILL TANNER: DEPUTY U.S. MARSHAL. His thrillers include BLACK FRIDAY, TYRANNY, STAND YOUR GROUND, THE DOOMSDAY BUNKER, and TRIGGER WARNING. Visit his website at www.williamjohnstone.net or email him at dogcia2006@aol.com.
 
Being the all-around assistant, typist, researcher, and fact checker to one of the most popular western authors of all time, J.A. Johnstone learned from the master, Uncle William W. Johnstone.  
 
He began tutoring J.A. at an early age. After-school hours were often spent retyping manuscripts or researching his massive American Western History library as well as the more modern wars and conflicts. J.A. worked hard—and learned.
 
"Every day with Bill was an adventure story in itself. Bill taught me all he could about the art of storytelling. 'Keep the historical facts accurate,' he would say. 'Remember the readers, and as your grandfather once told me, I am telling you now: be the best J.A. Johnstone you can be.'"