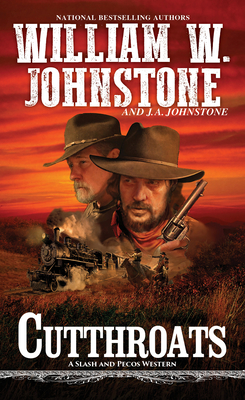 Cutthroats (A Slash and Pecos Western #1) (Mass Market)
Pinnacle, 9780786043767, 336pp.
Publication Date: June 25, 2019
Other Editions of This Title:
Hardcover (1/29/2019)
Compact Disc (6/25/2019)
MP3 CD (6/25/2019)
* Individual store prices may vary.
Description
JOHNSTONE. KEEPING THE WEST WILD.

Not every Western hero wears a white hat or a tin star. Most of them are just fighting to survive. Some of them can be liars, cheaters, and thieves. And then there's a couple of old-time robbers named Slash and Pecos . . .
 
Two wanted outlaws. One hell of a story.

After a lifetime of robbing banks and holding up trains, Jimmy "Slash" Braddock and Melvin "Pecos Kid" Baker are ready to call it quits—though not completely by choice. Sold out by their old gang, Slash and Pecos have to bust out of jail and pull one last job to finance their early retirement . . .

The target is a rancher's payroll train. Catch is: the train is carrying a Gatling gun and twenty deputy US marshals who know they're coming. Caught and quickly sentenced to hang, their old enemy—the wheelchair-bound, bucket of mean, Marshal L.C. Bledsoe—shows up at the last minute to spare their lives. For a price. He'll let them live if they hunt down their old gang, the Snake River Marauders. And kill those prairie rats—with extreme prejudice . . .
About the Author
William W. Johnstone is the New York Times and USA Today bestselling author of over 300 books, including the series THE MOUNTAIN MAN; PREACHER, THE FIRST MOUNTAIN MAN; MACCALLISTER; LUKE JENSEN, BOUNTY HUNTER; FLINTLOCK; THOSE JENSEN BOYS; THE FRONTIERSMAN; THE LEGEND OF PERLEY GATES; THE CHUCKWAGON TRAIL; FIRESTICK; SAWBONES; and WILL TANNER: DEPUTY U.S. MARSHAL. His thrillers include BLACK FRIDAY, TYRANNY, STAND YOUR GROUND, THE DOOMSDAY BUNKER, and TRIGGER WARNING. Visit his website at www.williamjohnstone.net or email him at dogcia2006@aol.com.
 
Being the all-around assistant, typist, researcher, and fact checker to one of the most popular western authors of all time, J.A. Johnstone learned from the master, Uncle William W. Johnstone.  
 
He began tutoring J.A. at an early age. After-school hours were often spent retyping manuscripts or researching his massive American Western History library as well as the more modern wars and conflicts. J.A. worked hard—and learned.
 
"Every day with Bill was an adventure story in itself. Bill taught me all he could about the art of storytelling. 'Keep the historical facts accurate,' he would say. 'Remember the readers, and as your grandfather once told me, I am telling you now: be the best J.A. Johnstone you can be.'"