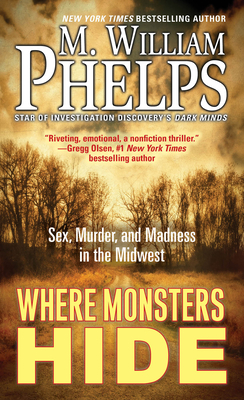 Where Monsters Hide (Mass Market)
Sex, Murder, and Madness in the Midwest
Pinnacle, 9780786044733, 400pp.
Publication Date: February 25, 2020
Other Editions of This Title:
Paperback (3/26/2019)
Compact Disc (3/26/2019)
MP3 CD (3/26/2019)
* Individual store prices may vary.
Description
An unexplained disappearance spirals into an unrelenting murder mystery.
 
In October 2014, local Michigan police chief Laura Frizzo faced a perplexing missing-person case.  It was not like Chris Regan, a devoted father and dependable employee, to take off without explanation. When Frizzo learned Chris was having an affair with Kelly Cochran, a married co-worker, suspicion fell on Kelly's hulking husband, Jason. Soon after that the Cochrans abruptly moved to Indiana.
 
Sixteen months later, Jason Cochran died from a drug overdose. Friends and family rallied around the grieving Kelly. But when the coroner ruled Jason's death a homicide, no one reacted more bizarrely than his widow. Detectives tried to put Kelly's past into focus. But the horrific truth was hidden under a near-perfect patchwork of lies. Veteran investigative journalist M. William Phelps expertly reveals Kelly Cochran's staggering saga of murder, revenge, and payback.
 
"Phelps is the Harlan Coben of real-life thrillers."
—Allison Brennan
 
"Anything by Phelps is an eye-opening experience." 
—Suspense Magazine

"Master of true crime."  
—Real Crime magazine
About the Author
New York Times bestselling investigative journalist and serial killer expert M. William Phelps is the author of more than thirty nonfiction books and has made over 200 television appearances. He created, produced and starred in the series Dark Minds and is one of the stars of Deadly Women and Oxygen's Snapped, Killer Couples and KillerPost. Radio America calls him "the nation's leading authority on the mind of the female murderer." Touched by tragedy himself through the unsolved murder of his sister-in-law, Phelps is able to enter the hearts and minds of his subjects like no one else. He lives in a Connecticut farming community and can be reached at his website, www.mwilliamphelps.com.