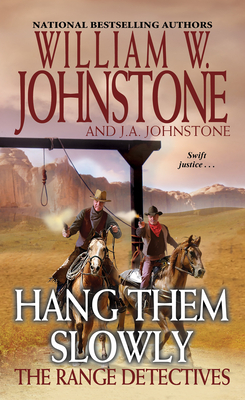 Hang Them Slowly (The Range Detectives #2) (Mass Market)
Pinnacle, 9780786044894, 368pp.
Publication Date: May 28, 2019
Other Editions of This Title:
Library Binding, Large Print (8/1/2019)
* Individual store prices may vary.
Description
JOHNSTONE COUNTRY. WHERE THE WILL DEFIES FEAR. 

Stovepipe Stewart and Wilbur Coleman look like drifters, but don't be fooled. In this blazing Western saga, these two undercover cowboys get paid to find trouble—and to risk their lives to stomp it out. By any means necessary.
 
Strangers. Killers. Spies.
 
Vance Brewster is a hardworking young cowboy. Stovepipe and Wilbur are two new ranch hands working at his side. And all three are caught up in a brewing, trigger-happy Montana range war between the Rafter M and Three Rivers. Then the fury suddenly explodes—in a hail of gunfire the three men must show their hands: they're all hiding their true identities. With Vance falling in love with the daughter of the Three Rivers manager, and Stovepipe and Wilbur paid by a tycoon who needs the violence to stop, all three are in mortal danger. Their real enemies are hiding true identities of their own—and they're not nice men. The body count is about to go sky high . . . and Stovepipe and Wilbur would prefer not be be on top of the pile.
 
Live Free. Read Hard.
About the Author
William W. Johnstone is the New York Times and USA Today bestselling author of over 300 books, including the series THE MOUNTAIN MAN; PREACHER, THE FIRST MOUNTAIN MAN; MACCALLISTER; LUKE JENSEN, BOUNTY HUNTER; FLINTLOCK; THOSE JENSEN BOYS; THE FRONTIERSMAN; SAVAGE TEXAS; THE KERRIGANS; and WILL TANNER: DEPUTY U.S. MARSHAL. His thrillers include BLACK FRIDAY, TYRANNY, STAND YOUR GROUND, and THE DOOMSDAY BUNKER. Visit his website at www.williamjohnstone.net or email him at dogcia2006@aol.com.
 
Being the all-around assistant, typist, researcher, and fact checker to one of the most popular western authors of all time, J.A. Johnstone learned from the master, Uncle William W. Johnstone.  
 
He began tutoring J.A. at an early age. After-school hours were often spent retyping manuscripts or researching his massive American Western History library as well as the more modern wars and conflicts. J.A. worked hard—and learned.
 
"Every day with Bill was an adventure story in itself. Bill taught me all he could about the art of storytelling. 'Keep the historical facts accurate,' he would say. 'Remember the readers, and as your grandfather once told me, I am telling you now: be the best J.A. Johnstone you can be.'"