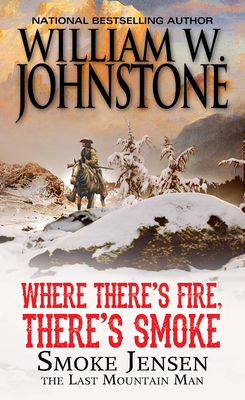 Where There's Fire, There's Smoke (Mountain Man)
Mass Market

* Individual store prices may vary.
Description
JOHNSTONE COUNTRY. THE LAW OF THE LAST MAN STANDING.  
His country burning with war, his family shattered, a young man strikes off on his own and builds a legend with his fists, a pistol, knife, and long gun. This collection includes the classic westerns Trail of the Mountain Man and Return of the Mountain Man, long unavailable and here together for the first time in one action-packed volume . . .
 
Where There's Gold, There's Blood, Bullets, and Smoke
 
When the Missouri farm boy named Jensen came west, he started fighting, surviving, and learning every brutal step of the way. He learned from a mountain man named Preacher. He learned from Indians. And from outlaws. And he learned that nothing burns the souls of men faster than the lure of glimmering gold.
 
From one ramshackle frontier mountain town to another, Smoke sees gold strikes—and gold fever—drawing crooks and cold-blooded killers from across the nation. Faced with an explosion of horrifying violence—along with some demons from his past—Smoke has no choice but to lay down the law. Once he does, it doesn't matter how many men and guns the outlaws bring. Because if Smoke Jensen has learned anything, it's this: in a vast, savage land, you don't back down, don't give up, and don't stop shooting until the last bad man goes to his Maker.
Pinnacle, 9780786044924, 480pp.
Publication Date: August 27, 2019
About the Author
William W. Johnstone is the USA Today and New York Times bestselling author of over 220 books, including THE FIRST MOUNTAIN MAN; THE LAST MOUNTAIN MAN; MACCALLISTER; EAGLES; SAVAGE TEXAS; MATT JENSEN, THE LAST MOUNTAIN MAN; THE FAMILY JENSEN; THE KERRIGANS: A TEXAS DYNASTY, and the stand-alone thrillers Suicide Mission, The Bleeding Edge, Home Invasion, Stand Your Ground, Tyranny, and Black Friday. Visit his website at www.williamjohnstone.net or by email at dogcia2006@aol.com.