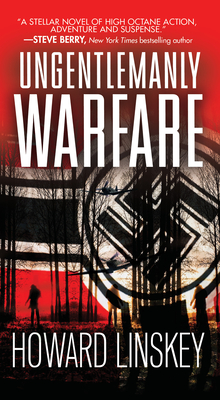 Ungentlemanly Warfare (Mass Market)
Pinnacle, 9780786046881, 368pp.
Publication Date: April 28, 2020
* Individual store prices may vary.
Description
A secret assassin. An impossible mission. Failure is not an option.  

1943. With Nazi Germany facing defeat, Reichsmarschall Hermann Goering has authorized mass production of the Messerschmitt Me 163 Komet, a jet-propulsion engine aircraft faster than any plane in the Allies' arsenal. But the Komet is unstable, and British Intelligence has discovered that German scientist Professor Gaerte has been tasked to fix the plane's flaw. To prevent the Komets from getting airborne, an undercover task force must infiltrate Nazi-occupied France and assassinate Gaerte.
 
Captain Harry Walsh is one of Britain's most effective, ruthless, and unorthodox Special Operations Executive agents. Allied with an American OSS and Free French operatives, Harry leads his squad behind enemy lines where he's reunited with fellow SOE operative—and former lover—Emma Stirling. But as the team proceeds with their mission, an SS officer from Harry's past pursues the Englishman on a very personal mission of revenge . . .
 
"Reads like the new The Day of the Jackal—swift, deadly, game over!"
—John Ellsworth, USA Today bestselling author of The Point of Light

"A heart-pounding thriller from cover to cover. I couldn't put it down."
—James D. Shipman, author of Task Force Baum
 
"A perfect companion for fans of the great Ken Follett."
—Chuck Driskell, author of Final Mission: Zion
About the Author
Howard Linskey is best known for his David Blake crime novels and his DS Ian Bradshaw mystery series. Harry Potter producer David Barron optioned a TV adaptation of The Drop, which was voted one of the Top Five Thrillers of the Year by The London Times, while The Damage was voted one of their Top Summer Reads. He now also writes historical thrillers set during World War II, including Hunting the Hangman. Ungentlemanly Warfare tells an entirely new story with a brand-new cast of spies and assassins. Visit him online at www.HowardLinskey.co.uk.
Praise For Ungentlemanly Warfare…
"A stellar novel of high octane action, adventure and suspense. A sizzling treat that nails its complexities and wrenches your emotions. It's a battle of wits that heats up every page." 
—Steve Berry, New York Times bestselling author