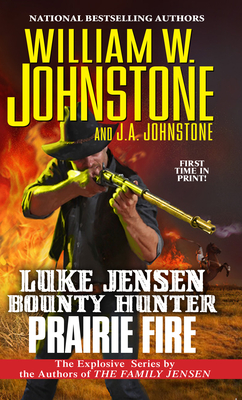 Prairie Fire (Luke Jensen Bounty Hunter #9)
Mass Market

* Individual store prices may vary.
Description
The Greatest Western Writers of the 21st Century present the 9th chapter in their USA Today and Publishers Weekly bestselling series featuring Luke Jensen, the long-lost brother of Mountain Man Smoke Jensen. A legend among bounty hunters, Luke Jensen is called to track down a deranged Yankee-turned-outlaw with a burning passion to torch the prairies, torment the townsfolks, and turn all he sees into a smoldering cinder...


Johnstone Country. Ready, Aim, Kill.


CAUTION: CONTENTS MAY BE FLAMMABLE

In the darkest days of the Civil War, Neville Goldsmith set the world on fire. As Captain for the Union Army, he marched with General Sherman through Georgia, setting homes and cities ablaze with sadistic glee. For Goldsmith, starting fires was a lifelong obsession. And when the war ended, he set his sights on the great American West—to burn it all to the ground...

Years later, Luke Jensen learns about a series of fires wreaking havoc from the Dakota Territory to Kansas. Each fire appears to be man-made—a way to distract the locals while outlaws rob their banks and loot their towns. The gang's leader is the demented firebug Goldsmith, along with an equally psychotic partner, Trask. As their fiery reign of terror rages out of control, Luke Jensen decides to do something crazy himself: Infiltrate the gang—and fight fire with gunfire.
Pinnacle, 9780786047338, 304pp.
Publication Date: January 25, 2022
About the Author
William W. Johnstone is the #1 bestselling Western writer in America and the New York Times and USA Today bestselling author of hundreds of books, with over 50 million copies sold. Born in southern Missouri, he was raised with strong moral and family values by his minister father, and tutored by his schoolteacher mother. He left school at fifteen to work in a carnival and then as a deputy sheriff before serving in the army. He went on to become known as "the Greatest Western writer of the 21st Century." Visit him online at WilliamJohnstone.net.

J.A. Johnstone learned to write from the master himself, Uncle William W. Johnstone, who began tutoring J.A. at an early age. After-school hours were often spent retyping manuscripts or researching his massive American Western History library as well as the more modern wars and conflicts. J.A. worked hard and learned, later going on to become the co-author of William W. Johnstone's many bestselling westerns and thrillers. J.A. Johnstone lives on a ranch in Tennessee and more information is at WilliamJohnstone.net.