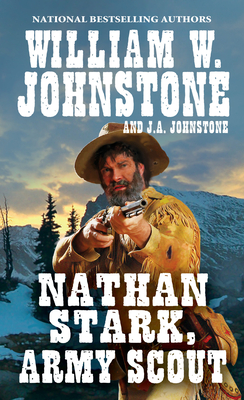 Nathan Stark, Army Scout (A Nathan Stark Western #1)
Mass Market

* Individual store prices may vary.
Description
In this blazing new series, William W. and J.A. Johnstone tell the tale of a man who became a myth--and a myth that became a legend. This is the epic story of Nathan Stark, Army Scout...

They slaughtered his family. Killed his young bride. And ever since that tragic day, Nathan Stark has devoted his life to fighting the hostile tribes who massacred those he loved. As a civilian scout for the Army, he's served with such famous commanders as Custer and Crook. He's battled against such notorious war chiefs as Crazy Horse and Sitting Bull. Among the fiercest natives of the untamed West, Nathan Stark is a living legend--one that must be destroyed...

Against his better judgment, Nathan agrees to be teamed up with a rival Crow scout named Moses Red Buffalo. Their mission: to forge a trail deep into Indian territory under the command of a bloodthirsty army colonel. But the mission is not what it seems. If Stark and Red Buffalo want to stay alive, they'll have to work together as a team--if they don't kill each other first...
Pinnacle, 9780786047857, 400pp.
Publication Date: January 26, 2021
About the Author
William W. Johnstone is the New York Times and USA Today bestselling author of over three hundred novels of Western adventure, military action, and chilling suspense, and with over 35 million books in print, he is the best-selling Western writer in the world. Born in southern Missouri, he was raised with strong moral and family values by his minister father, and tutored by his schoolteacher mother. He left school at fifteen to work in a carnival and then as a deputy sheriff before serving in the army. He went on to become known as "the Greatest Western writer of the 21st Century." Visit him online at WilliamJohnstone.net.

J.A. Johnstone learned to write from the master himself, Uncle William W. Johnstone, who began tutoring J.A. at an early age. After-school hours were often spent retyping manuscripts or researching his massive American Western History library as well as the more modern wars and conflicts. J.A. worked hard--and learned. "Every day with Bill was an adventure story in itself. Bill taught me all he could about the art of storytelling. 'Keep the historical facts accurate,' he would say. 'Remember the readers, and as your grandfather once told me, I am telling you now: be the best Johnstone you can be." J.A. Johnstone has co-written numerous bestselling series with William W. Johnstone including The First Mountain Man, The Brothers O'Brien, Preacher, and The Last Mountain Man.