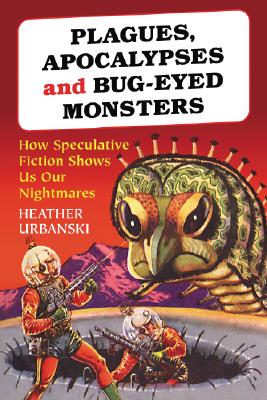 Plagues, Apocalypses and Bug-Eyed Monsters
How Speculative Fiction Shows Us Our Nightmares
Paperback

* Individual store prices may vary.
Description
Speculative fiction--both science fiction and fantasy--reflects, among other things, the fears of the culture that created it, contributing (perhaps unconsciously) to our efforts to prevent our fears from coming true. While the names and media change over time, the themes of speculative fiction have a long history. Nineteenth century works such as Frankenstein and The Invisible Man contain many of the same messages as the more modern tales of Terminator, Jurassic Park and even Buffy, the Vampire Slayer, although almost a century separates their creation. This critical study discusses the ways in which speculative fiction reflects societal fears and analyzes how such cautionary tales contribute to society's efforts to avoid the realization of these fears. Beginning with a discussion of the nature of speculative fiction, it takes a look at the characteristics of the cautionary tale. The core of the book, however, is the concept of the Nightmares Model, which examines and categorizes the repetition of specific themes within the genre. The dangers of science and technology, the perils of power, and the threat of the unknown are discussed as recurrent themes within a variety of works in prose, film and television. Works analyzed range from Twenty-Thousand Leagues Under the Sea to 2001: A Space Odyssey to The Blair Witch Project. Sources include the author's own observations as a member of the genre's fandom, a variety of published commentaries and the perspectives of contemporary professionals gained through personal interviews and panel discussions.
McFarland & Company, 9780786429165, 264pp.
Publication Date: January 9, 2007
About the Author
Heather Urbanski is currently an assistant professor of English at Fitchburg State University in Massachusetts.
or
Not Currently Available for Direct Purchase