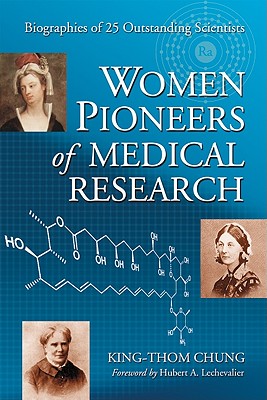 Women Pioneers of Medical Research
Biographies of 25 Outstanding Scientists
Paperback

* Individual store prices may vary.
Description
While most laymen could recognize Florence Nightingale as the founder of modern nursing, it's doubtful they could likewise identify Louise Pearce as one of the primary researchers in the cure for African Sleeping Sickness or Anna W. Williams as the discoverer of the diphtheria antitoxin. This book profiles 25 women who have made significant contributions to medical research, including Lady Mary Wortley Montagu, Lydia Folger Fowler, Virginia Apgar, and Rosalind Franklin, among others. Each profile includes a general introduction and covers the woman's childhood or family background, her formal education, her most valuable contributions to the field, and the important events or persons which influenced her life and career.
McFarland & Company, 9780786429271, 220pp.
Publication Date: November 17, 2009
About the Author
King-Thom Chung has been a professor of microbiology and molecular toxicology at the University of Memphis since 1988. He pioneers research on azo dyes-induced cancer, and his work on genotoxicology of aromatic amines metabolically produced from azo dyes has received world recognition.