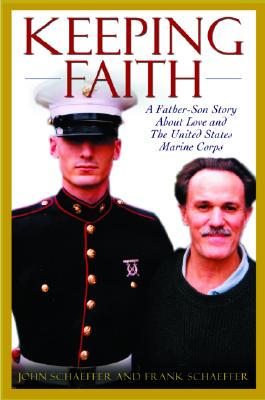 Keeping Faith
A Father-Son Story About Love and the United States Marine Corps
Paperback

* Individual store prices may vary.
Description
In 1998, Frank Schaeffer was a successful novelist living in "Volvo-driving, higher-education worshipping" Massachusetts with two children graduated from top universities. Then his youngest child, straight out of high school, joined the U.S. Marine Corps. Written in alternating voices by eighteen-year-old John and his father, Frank, Keeping Faith takes readers in riveting fashion through a family's experience of the U.S. Marine Corps. From being broken down and built back up on Parris Island (and being the parent of a child undergoing that experience), to the growth of both father and son and their separate reevaluations of what it means to serve. From Frank's realization that among his fellow soccer dads "the very words 'boot camp' were pejorative, conjuring up 'troubled youths at risk' " to John's learning that "the Marine next to you is more important than you are," Keeping Faith is a fascinating and personal reconsideration of issues of class, duty, and patriotism. But as John and his fellow recruits battle to make the cut -- and John's family struggles to deal with the worry and separation, it is also an extremely timely, moving, and wonderfully written human interest story -- a moving chronicle of love, duty and patriotism in contemporary America. "Beautifully written ... great insight and unselfconscious humor." -- Publishers Weekly
Da Capo Press, 9780786713080, 272pp.
Publication Date: December 15, 2003