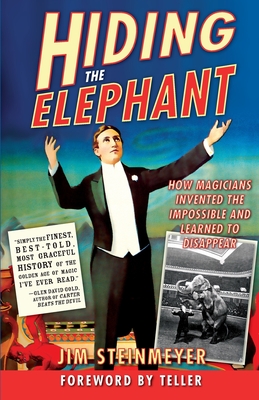 Hiding the Elephant (Paperback)
How Magicians Invented the Impossible and Learned to Disappear
Da Capo Press, 9780786714018, 392pp.
Publication Date: September 15, 2004
* Individual store prices may vary.
Description
Now in paperback comes Jim Steinmeyer's astonishing chronicle of half a century of illusionary innovation, backstage chicanery, and keen competition within the world of magicians. Lauded by today's finest magicians and critics, Hiding the Elephant is a cultural history of the efforts among legendary conjurers to make things materialize, levitate, and disappear. Steinmeyer unveils the secrets and life stories of the fascinating personalities behind optical marvels such as floating ghosts interacting with live actors, disembodied heads, and vanishing ladies. He demystifies Pepper's Ghost, Harry Kellar's Levitation of Princess Karnak, Charles Morritt's Disappearing Donkey, and Houdini's landmark vanishing of Jennie the elephant in 1918. The dramatic mix of science and history, with revealing diagrams, photographs and magicians' portraits by William Stout, provides a glimpse behind the curtain at the backstage story of magic.