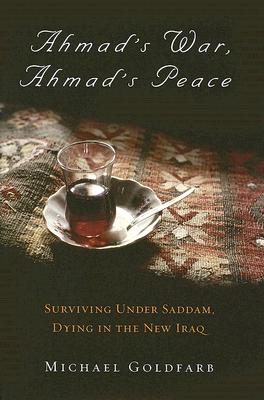 Ahmad's War, Ahmad's Peace (Hardcover)
Surviving Under Saddam, Dying in the New Iraq
Basic Books, 9780786715152, 336pp.
Publication Date: August 1, 2005
* Individual store prices may vary.
or
Not Currently Available for Direct Purchase
Description
From public radio journalist Michael Goldfarb comes the most stirring narrative to emerge from the Second Gulf War, from the frontlines of battle, to the home of an Iraqi Kurdish family, and into the hearts of two men from different cultures whose friendship and passion for freedom will inspire all. Ahmad's War, Ahmad's Peace is Goldfarb's moving tribute to Ahmad Shawkat, the Iraqi Kurd who served as his translator during "Major Combat Operations," whose life's work was to promote freedom, and who was ultimately murdered during the American occupation. Goldfarb recounts his powerful relationship with Ahmad and introduces readers to the life of a true Iraqi hero. Eighteen years old when the Ba'ath Party seized control of Iraq, Ahmad was imprisoned and tortured twice by Saddam Hussein's regime, was forced to fight in the Iraqi army against Iran, and was banished from his hometown of Mosul for his anti-Saddam political writings. Just as he began to taste freedom with the fall of Saddam and his large family's return to Mosul, Ahmad was murdered for publicly decrying Islamic terror. As Goldfarb investigates his friend's murder, he mourns this loss and contemplates what dangers await the Iraqi people in their uncertain future.
Advertisement