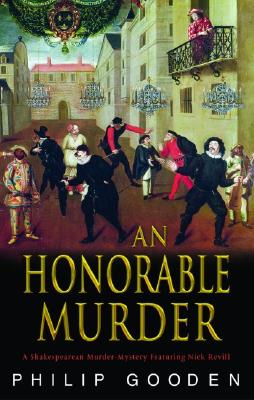 An Honorable Murder: A Shakespearean Murder-Mystery Featuring Nick Revill (Hardcover)
A Shakespearean Murder-Mystery Featuring Nick Revill
Carroll & Graf, 9780786715282, 282pp.
Publication Date: March 1, 2005
* Individual store prices may vary.
or
Not Currently Available for Direct Purchase
Description
It is the summer of 1604, many years after the defeat of the Armada, and the Spanish are in London to negotiate a peace treaty. Nick Revill's theater company— newly promoted to the King's Men now that James I is on the throne—are given a ceremonial role at the celebrations. But not everybody welcomes this outbreak of peace.

Sir Walter Raleigh, imprisoned in the Tower of London, is far from inactive—he has many friends on the outside who may try to sabotage the negotiations. Nick, meanwhile, has been invited by Shakespeare's rival, Ben Jonson, to take part in a masque at Somerset House, where the Spanish are lodged. He soon finds himself unwillingly caught up in a conspiracy.

During a rehearsal, the courtier Sir Philip Blake dies an apparently accidental death when he tumbles from a chair in which he is being lowered to the stage. But this is only the first of a series of suspicious deaths, and Nick must look hard at those around him: the robust Ben Jonson, once imprisoned for killing a fellow player; the embittered and satirical playwright Martin Barton; the smooth courtier Giles Cass; and Maria More, devoted companion to the bereft Lady Blake.
Advertisement