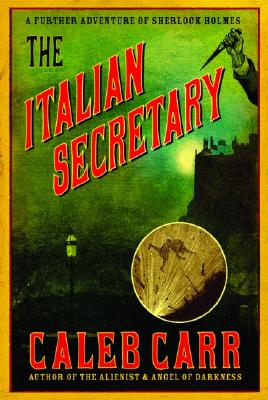 The Italian Secretary (Hardcover)
A Further Adventure of Sherlock Holmes
Carroll & Graf Publishers, 9780786715480, 263pp.
Publication Date: April 8, 2005
Other Editions of This Title:
Paperback (10/27/2009)
Mass Market Paperback (5/2/2006)
* Individual store prices may vary.
Description
Sherlock Holmes and Dr. Watson are summoned to the aid of Queen Victoria in Scotland by a telegram from Holmes' brother, Mycroft, a royal advisor. Rushed northward on a royal trainand nearly murdered themselves en routethe pair are soon joined by Mycroft, and learn of the brutal killings of two of the Queen's servants, a renowned architect and his foreman, both of whom had been working on the renovation of the famous and forbidding Royal Palace of Holyrood, in Edinburgh. Mycroft has enlisted his brother to help solve the murders that may be key elements of a much more elaborate and pernicious plot on the Queen's life. But the circumstances of the two victims' deaths also call to Holmes' mind the terrible murderin Holyroodof "The Italian Secretary," David Rizzio. Only Rizzio, a music teacher and confidante of Mary, Queen of Scots, was murdered three centuries ago. Holmes proceeds to alarm Watson with the announcement that the Italian Secretary's vengeful spirit may have taken the lives of the two men as punishment for disturbing the scene of his assassination. Critically acclaimed, bestselling author Caleb Carr's brilliant new offering takes the Conan Doyle tradition to remarkable new heights with this spellbinding tale.
or
Not Currently Available for Direct Purchase